Future and Former Corvallis Knights Shining Bright in College Game.
April 11, 2012
Knights Accumulating Weekly Conference Honors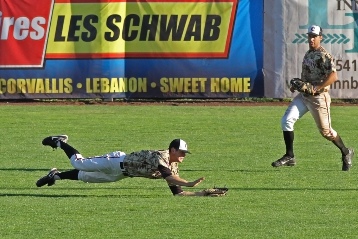 Future Corvallis Knights pitcher Rob Dittrick of Pacific University was named the Northwest Conference Pitcher of the Week on Tuesday for his 3-hit, five-strikeout shutout of Whitman on April 6.
If that sounds like old news, it's because - well, it is.
It's the third time this spring that Dittrick, a junior right-hander who was the NWC's Pitcher of the Year in 2011, has earned the weekly award; he also made D3Baseball.com's National Team of the Week.
You could say "Knights win conference honors" is a trending topic, because it's been a spring jammed-full of such recognition for former, current and future Knights.
They've earned Pitcher or Player of the Week honors in the Pacific-12, Big West, Horizon, Colonial Athletic, Northwest, Great Northwest and Cascade Collegiate conferences thus far, and there's still almost two full months left in the regular season to add to that already-impressive list.
"Those honors further illustrate the caliber of player we are committed to bring to Corvallis every summer," Knights president Dan Segel said. "We have established a reputation of player development and that encourages the coaches from our partner schools to send us their top young talent."
The pattern of success began to emerge even before the season started, when Baseball America magazine rated Pacific Lutheran junior Max Beatty (2010-12) as the NCAA Division III's top prospect for the 2012 Major-League Draft.
Then, Kentucky third baseman Thomas McCarthy (2010) was one of 30 players nominated for the Lowe's Senior CLASS Award, and Texas Tech's Bo Altobelli (2010) was one of 43 catchers to make the watch list for the Johnny Bench Award, given annually to the country's top backstop.
Nothing changed when the games started in early February.
* UC Riverside starter Dylan Stuart (2011-12) shut out BYU on opening day to earn Big West Conference Pitcher of the Week honors.
* Oregon reliever Jimmie Sherfy (2011) tossed 5.2 scoreless innings and struck out 13 at Hawaii on Day 2 to garner the Pac-12's top pitching honor for the opening week.
* Cal Poly outfielder Mitch Haniger, pictured making a diving catch for the Knights in 2010 at Goss Stadium, was the Big West's Player of the Week for Feb. 20-26 after a nine-RBI series against Loyola Marymount. Teammate Nick Torres (2012) won the same award on March 12 for driving in eight runs on five extra-base hits in a series against Washington.
* Corban College infielder Marc Gallegos (2012) was the Cascade Collegiate Conference's Player of the Week for Feb. 13-19 after recording eight hits, six steals, four RBIs and four runs in a four-game series against Lewis & Clark College.
* Concordia's Sean Myrom (2011) duplicated Gallegos feat on March 13 earning CCC Player of the Week honors for hitting .462 in a series at Menlo College.
* Delaware pitcher Eric Young (2010-12) shut out The Citadel on two hits over eight innings on Feb. 24 and was the Colonial Athletic Association's Pitcher of the Week for Feb. 20-26.
* George Fox's Brian Ranta (2011) was the NWC Pitcher of the Week for Feb. 20-26, March 19-25, and March 26-April 1. One of those awards came after Ranta threw the fourth no-hitter in school history, a 12-strikeout, 1-0 gem over Whitman on March 24.
* UC Riverside's Eddie Orozco (2008-09) earned Big West Conference pitching honors and was a Louisville Slugger National Player of the Week for a 15-strikeout, 3-hit shutout of Sacramento State on March 10.
* Outfielder Matt Nylen (2011-12) of Western Oregon earned the Great Northwest Athletic Conference's Player of the Week nod for March 5-11 after driving in six runs in four games against Northwest Nazarene.
* PLU's Jacob Hoffman (2012) was the NWC Player of the Week for March 19-25 after doubling four times and driving in seven runs in a sweep of Puget Sound.
* Catcher Corey Davis (2010-11) of Wright State was the Horizon Conference Batter of the Week for March 26-April 1 after homering twice, doubling twice, scoring five times and driving in four runs in four road wins.
"We're very proud of what all our shining Knights have accomplished this season," Segel said. "And we're confident we'll have even more honors to highlight before the school-ball season ends in Omaha at the College World Series."