Corvallis Captures South and Posts Best Record in WCL at 37-17.
August 11, 2013
Knights Look Forward to WCL South Divisional Series; Open at Medford Tuesday, August 13th at Harry & David Field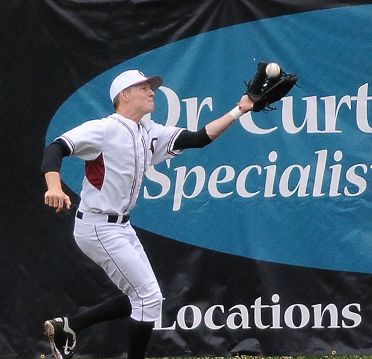 The Knights sprinted to the regular-season finish line outdistancing the South field by 7 games on their way to a league best record of 37-17. Corvallis used extraordinary team speed to set a WCL record with 149 stolen bases as the Knights sped to first-place by winning their final 9 WCL games, going 16-4 in July and 9-1 in August.
It was a breakout summer for several Knights as Blake Drake of Concordia (pictured), Cody Lenahan of Portland, Dane Lund of San Jose State, Peter Van Gansen of Cal Poly, Kevin Kline of Dixie State, Grant Melker of San Diego and Elliot Surrey of UC Irvine improved their stock and entertained Corvallis fans.
Drake showed off his dynamic skills all summer; hitting, fielding, bunting and running to the delight of the Knights' faithful. Blake made several game-changing catches and throws in center field. And the junior-to-be led off most of the season leading Corvallis with 203 at bats, 40 runs scored and 14 doubles while hitting .291 and stealing 20 bases.
The Knights corner infielders proved to be two of the best in the WCL, delivering in the clutch and posting big numbers. Lenahan, the club's third baseman, led the team in RBIs with 36, hits with 60 and triples with 4, and hit .314 with 11 doubles while first sacker Kline batted .302 with 13 doubles, 4 home runs and 34 RBI.
The team's sparkplug was Dane Lund, the Knights' three-year veteran. Dane teamed with Chris Rabago of UC Irvine at catcher to feature arguably the league's top back-stops. Lund led the team in hitting with a .343 batting average and OPS at .845. And he was a devil on the bases stealing 25 bags.
Sophomore Grant Melker led the Knights in stolen bases with 26 and in walks with 26 while hitting .282 and playing a solid outfield.
Van Gansen turned in a spectacular summer at shortstop fielding at an impressive .988 clip with only two errors and 111 assists, giving the Knights great strength up the middle with Drake in center and Lund & Rabago behind the dish. Peter's 2013 defense rivaled the marvelous summer of 2001 by Eddie Cornejo, now the head assistant coach at UC Santa Barbara, when Cornejo only made 4 errors and recorded 171 assists at short (.983 fielding). Van Gansen also hit, registering seven consecutive knocks vs. Bend in a key home series August 5-7. The sophomore-to-be from Cal Poly finished the season hitting .310 with 24 RBIs.
"Defensively, we were really good," said team president Dan Segel. "We were strong up the middle with PVG (Van Gansen), 'Bago (Rabago), Michael Lucarelli, Blake and Dane Lund. This has to be one of our best defensive clubs and up the middle this might be the very best we've ever had."
The Corvallis Knights pitching staff led the WCL in ERA for the sixth straight season with a league-low ERA of 2.81. The staff lost projected aces Andrew Moore and Max Engelbrekt of Oregon State prior to the season and Dylan Hecht of UC Santa Barbara in late July to summer school, but freshmen arms such as Elliot Surrey of UC Irvine, Jacob Schroeder of Washington State and Alex Nesbitt of Washington emerged to earn spots in the rotation and lead Corvallis to their seventh straight division title.
Surrey posted the league's lowest ERA at 1.27 as the southpaw tossed 49.2 innings and went 5-1. Schroeder went 4-0 with a 2.74 ERA and Nesbitt logged 35 innings going 2-0 with a 2.82 ERA.
Surrey, Schroeder and Nesbitt weren't the only arms that emerged to have superb summers. Sophomore right-hander Chris Bishop of Pacific Lutheran was stellar (5-2, 2.66); Brandon Choate (1-1, 0.50, 5 svs), a junior-to-be at Washington, earned an All-Star spot; 10-day signee Sean Eberhardt of George Fox (3-0, 2.51) pitched well to earn a roster spot; and Kevin Flemer (2-1, 0.81), a frosh-to-be at Oregon State, was electric over 22 innings pitched mostly out of the bullpen.
Grand Canyon pitchers Jorge Perez (1-1, 1.30, 6 svs) and Andrew Naderer (3-1, 2.48) were arguably the team's top closer and starter, respectively. And frosh righty Casey Bloomquist of Cal Poly went 4-0 over 7 starts with a 3.45 ERA while senior-to-be Colin Feldtman of Portland (1-3, 4.37, 2 svs) pitched well late and was a team leader along with Lund and Rabago.
The Knights (42-17 overall) will start their post-season on Tuesday at Harry & David Field vs. the Medford Rogues (30-24). And return home on Wednesday, August 14 to host game two of the best-of-three WCL South Divisional Series. First pitch is 6:40 pm. If necessary, a game three would be played at Goss Stadium on Thursday, August 15 at 6:40 pm.
Corvallis has played very well at home posting a 23-4 WCL mark and 28-4 overall record. The Knights hope to keep things rolling at Goss Stadium on Wednesday, August 14th vs. the Rogues.
The Knights went 5-1 vs. Medford during the regular-season including a home sweep July 24-26. The Rogues are managed by ex-Knight Josh Hogan, and former Knights' MVP Dylan Jones is an assistant coach for Medford.