Klamath Falls Hires Ex-Knights to Coach Gems.
September 8, 2011
Former Knight Josh Hogan to Skipper Klamath; Corvallis Assistant Billy Clontz Named Gems' Head Assistant Coach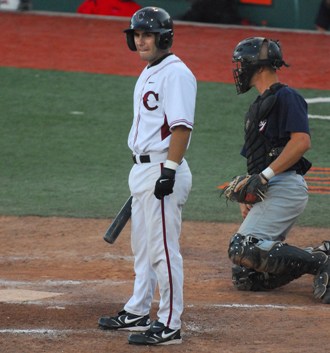 Billy Clontz has been named the new assistant head coach of the Klamath Falls Gems of the West Coast League, the team announced yesterday.
He was an assistant coach for the Corvallis Knights the past two seasons.
Clontz, 24, thus reunites with former Knights' teammate Josh Hogan (pictured taking a sign at Goss Stadium in 2008), who was hired as the Gems' new head coach last month.
Clontz and Hogan played together on the 2008 and 2009 Knights, and at Mt. Hood CC.
No successor for Billy's position with the Knights has been announced.
With the Knights, Clontz was part of a staff that won West Division regular-season titles in 2010 and 2011, and captured the WCL crown in 2011.
The Western Oregon alum also played for the team in 2006, 2008 and 2009, and was an integral part of the 2008 WCL championship team, and of the 2009 club that won a record 38 regular-seaosn games and lost to Wenatchee in the WCL Championship Series.
Clontz was named second-team All-WCL as a utility player in 2008 and earned honorable mention All-WCL in 2009.
Billy played football and baseball at Corvallis High, and then played college baseball at Mt. Hood CC before finishing his collegiate playing career at Western Oregon.
Clontz was an assistant coach at Mt. Hood CC under ex-Knight Bryan Donohue in 2010 and 2011 and is presently coaching in Australia.
Hogan coached the past two seasons with the Cowlitz Black Bears of the West Coast League under skipper Bryson Leblanc, who recently accepted an assistant coaching position at UC Riverside.
Josh also spent a spring coaching at University of Oregon after finishing his playing career with the Ducks.
The Eugene native played three summers with the Knights, 2007-2009, and won a WCL championship in 2008 with Corvallis.
Like Clontz, Hogan was an All-WCL performer earning first-team All-WCCBL honors in 2007, second-team All-WCL recognition in 2008 and honorable mention honors in 2009.
Other former Knights that have recently accepted new coaching positions are Eddie Cornejo, formerly an assistant at UC Riverside, now at UC Santa Barbara; Jason Hawkins, formerly the head coach at Occidental College, now at UC Santa Barbara; and Andrew Checketts, formerly at University of Oregon; now at UC Santa Barbara.
Checketts is the new head coach at UC Santa Barbara. Andrew got his college coaching career started with the Knights in 2000. Cornejo played for the Knights in 2001 and Hawkins was the Corvallis pitching coach in 2008.
Cornejo is the Gauchos' new head assistant while Hawkins is UCSB's new pitching coach.