Doug Blair Named Staff Member of the Year.
September 23, 2010
New Director of Sales Grows Sponsor Revenue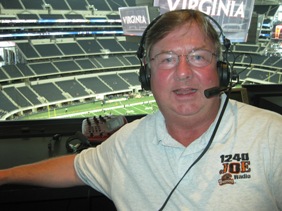 Director of Sales Doug Blair was named the Corvallis Knights Staff Member of the Year by Team President Dan Segel on Thursday.
Blair, who is the Local Sales Manager-Sports for Bicoastal Media in Albany, Oregon, has sold advertising for the Knights since the team relocated to the Mid-Valley in 2007 and was promoted to Director of Sales in 2010.
"Doug is a consummate pro and was definitely our shining star this year," said Segel. "He works hard for the customer and did an excellent job mentoring Bre and Jennifer Hammack."
In a tough economy, Blair significantly exceeded his and the team's advertising sales goal. The Knights, thanks to Blair and Director of Business Development Bre Kerkvliet, increased advertising sales by nearly 50%.
Blair joins previous honorees Brian Brooks (2009), Stro Strohmeyer (2008) and Holly Jones (2007) as Staff Member of the Year selections.
Brooks is the club's Advertising Manager, Strohmeyer is the team's Director of Ballpark Operations and Jones was the Knights' Assistant to the General Manager in 2007.