Dane Lund Returns to Corvallis for Fifth Consecutive Season.
June 4, 2015
Ex-Knights' Catcher to Fill Assistant Coaching Slot for Knights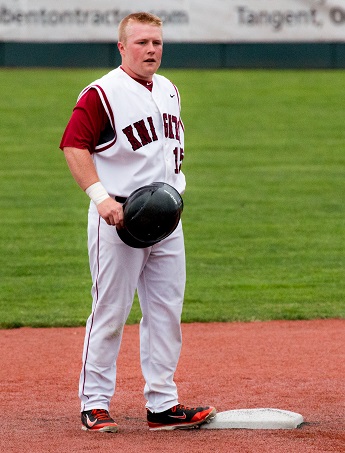 A very familiar face will man the first-base coaching box for the Corvallis Knights this summer.
Former Oregon State catcher Dane Lund (2011-14), the only four-year Knight since the inception of the West Coast League in 2005, has joined head coach Brooke Knight's staff as an assistant. He made his coaching debut on Wednesday, when the Knights opened the 2015 campaign with a 30-1 victory over the Portland Sea Dogs in a nonleague game at Goss Stadium.
A 23-year-old native of Astoria and former star at Astoria High School, Dane completed his college career this past weekend when the Beavers were eliminated from the NCAA tournament with back-to-back losses to VCU and Dallas Baptist.
He hit .310 (18-58) as a reserve catcher and DH in his lone season with the Beavers, who he joined in 2014 after transferring from San Jose State.
"I'm real excited; I think coaching is what I want to do for a career," Lund said. "I feel very fortunate to have the relationship I do with Brooke, with [pitching coach] Connor Lambert and [president] Dan Segel, to hop on the staff here.
"I've grown to be very comfortable in Corvallis."
Lund will become the second former OSU catcher on the staff. Knight lettered for OSU from 1992-94 before concluding his college career at Western Oregon. Lund believes his catching experience will help him be a better coach.
"I hope it benefits me a lot," Lund said. "I'm used to calling pitches and knowing what to do in certain situations. As a catcher you always have to know where everybody is on the field and I think that aspect will be very beneficial to coaching."
Dane concluded his Knights' career last August after redshirting at OSU in 2014 following his move from SJSU. He hit .250 in 40 games, with no homers, six RBIs, and 12 stolen bases. Lund played in the WCL Championship Series every year with the Knights, and earned title rings in 2011 and 2013.
Dane's top season was 2013, when he earned team Most Valuable Player and all-WCL honors after helping lead the Knights to their third league crown. He hit .343 (48-140) in 46 WCL games, with no homers and 16 RBIs, and tied for second in steals (25-for-26) and sacrifice hits (11).
Lund led the Knights in hitting, was sixth in the batting race, had a team-best .452 on-base percentage and struck out just 12 times in 162 total plate appearances. He also had 26 walks.
Dane hit .261 (30-115) in 38 games for the Knights in 2012, with a homer and 13 RBIs. He hit .259 for Corvallis in 26 games in 2011, with no homers and six RBIs.
The pride of Astoria transferred to SJSU for the 2013 season after spending two years at Mt. Hood Community College where he hit .241 (19-79) in 32 games for the Spartans, with a homer and eight RBIs. He was also a NWAACC all-star in 2012 as a sophomore at Mt. Hood.
"We are very excited to have Dane on board," Knight said. "We know what we have with him. I'm looking forward to watching him begin his coaching career.
"He brings value to the organization. He commands respect, even with the guys he may have played with recently, which is never an easy position to be in. As far as game savvy and purposeful intent, Dane is a guy we are really excited to have."