Hannah Towery Earns Job with Timbers.
February 11, 2013
2012 Merchandise Intern to Work In Retail Sales with Popular Portland Soccer Team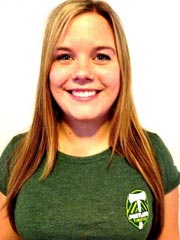 Hannah Towery (pictured, in her new Timbers gear) is turning pro - in a different sport.
The former Corvallis Knights merchandise intern has been hired as a retail event staffer by the Portland Timbers, one of the most successful franchises in Major League Soccer. She starts her job on Feb. 17, when the Timbers host the San Jose Earthquakes at JELD-WEN Field in a preseason exhibition game.
"I will be working in the fan shop selling merchandise at all the home games," said Towery, one of the Knights' three 2012 merchandise interns. "The first preseason game is coming up and the season goes through October. It's a very long season!"
Towery graduated from Lakeridge High School in her hometown of Lake Oswego in 2009 and will graduate from Oregon State this June with a degree in merchandise management. She worked with the Knights in 2012 and with Beaver Authentics during the following school year; her experiences in both positions helped her land her new position.
"Beaver Authentics is owned by Gameday Merchandising, which also owns the Timbers," she said. "My (OSU) general manager, James Tibbot, gave me the number of the hiring manager for the Timbers, so I gave her a call and it just went from there."
Portland was recently awarded a franchise in the new National Women's Soccer League so she could also work during Thorns' games too. Their season begins in April.
"Hopefully a higher position will open up with either team once I officially graduate in June," she said. "In the long run I am interested in product development or visual merchandising.
"I've really enjoyed having both my internships, and now with the Timbers, working with sports teams. I hope to continue working in the sports industry!"
Towery and fellow interns Amy Reede and Cara Mazzacavallo helped the Knights set a franchise record in merchandise sales last summer. They designed some of the apparel, organized and set up the displays, did ordering and inventorying, and handled all the sales.
"My internship with the Knights helped me a lot," Towery said. "It was my first foot in the door working in the sports industry. I learned how to do my first inventory spread sheets, and from watching the inventory, the other interns and I learned how to re-order merchandise.
"I also got to assist in designing the (2012) women's apparel. I always like to tell people that because it was a really fun experience!
"My favorite part of interning was the amazing staff, other interns and awesome fans! I will never forget how Hugh White (the Knights' landlord at Madison Plaza in Corvallis, and a season-ticket holder) brought all the interns candy to every game!"
She also learned the value of customer service and how important it is to treat everyone with respect because you never know where you'll see them again.
"I bump into fans around Corvallis, they remember me as the Knights intern and they always say hi!" she said. "It was a great summer interning with the Knights!"