Former Knights Slugger Joe DeRouche-Duffin Earns Major Conference Honor.
May 24, 2016
American Athletic Names University of Connecticut Senior Masher Player of the Year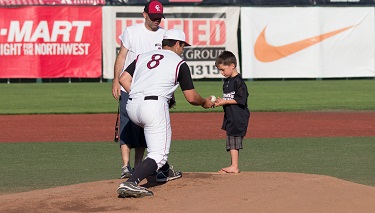 Former Corvallis Knights slugger Joe DeRoche-Duffin of the University of Connecticut was named Player of the Year in the American Athletic Conference.
The announcement was made yesterday.
Duffin enjoyed a breakout senior spring season where he blasted 17 home runs, collected 52 RBIS and posted an impressive .574 slugging percentage.
Joe played for the WCL champion Knights in 2013 and returned to Corvallis in 2014. He finished his summer baseball experience in the Northwoods League in 2015.
He came to the Knights from UC Santa Barbara before transferring to Cypress College for his sophomore year.
Duffin wrapped his college career at UConn where he blossomed into an offensive force for the Huskies over his junior and senior campaigns.
Joe represented the Knights at the WCL Home Run Derby in both 2013 and 2014 at Royal Athletic Park in Victoria and Kiger Stadium in Klamath Falls, respectively.
He led the Knights in home runs in 2013 with 5 and in doubles in 2014 with 15.
Congrats to Joe on a well deserved honor. He was one of the team's favorite players, who always took time to engage with kids at Goss Stadium (as pictured).
To read more about Joe's achievement, please click here.