2010 West Coast League RBI Leader Looks Forward to Summer in Corvallis.
March 23, 2011
Future Knights' Infielder Nate Roberts of Seattle University Visits Goss Stadium to Face OSU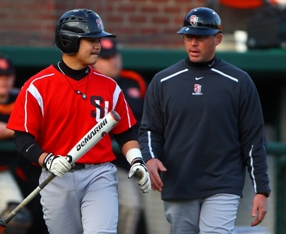 Nothing ever comes easy when you're scuffling.
Seattle University sophomore infielder Nate Roberts (pictured with Seattle assistant Casey Powell) was already 0-for-3 when he came to the plate in the seventh inning of the RedHawks' 5-4 victory over 23rd-ranked Oregon State on March 22 with one out and runners on second and third.
The 2011 Corvallis Knight-to-be ripped a pitch from OSU reliever Ryan Dunn (and Bend Elk) up the middle for what appeared to be a certain two-run single.
However, Dunn flicked his glove out at the last minute and speared the liner for the second out.
So instead of a confidence-building base hit, Roberts was retired before he'd even left the batter's box. Another hard shot in the ninth was gloved, and his 0-for-5 evening dropped his average down to .111.
That's a far cry from the .241 he hit as a 50-game starter as an SU freshman in 2010, when he hit .444 (4-9) with the bases loaded and laced 46 total hits, third-most on the team.
And it's light years away from the .335 average he authored with the Moses Lake Pirates last summer, when he led the West Coast League in RBIs (35) in his initial season in the circuit.
But, to paraphrase the great Yogi Berra, Roberts isn't in a slump, he's just not hitting. The play by Dunn that robbed him of a base hit epitomized his entire spring.
"That's been the whole season so far," Roberts said afterwards. "I've been hitting the ball hard, just right at guys.
"So it's been a little unlucky, but if I keep my same swing, I know eventually the hits will start dropping. I'm hitting the ball hard. I just have to keep working in practice and in BP.
"If I keep that same swing, I know something good will happen."
The numbers bear out Roberts' contention. He's not being overpowered or fooled; he's yet to strike out in 41 plate appearances and he has two doubles and two RBIs.
The 19-year-old Roberts grew up in Silverdale, Washington, the home of the Kitsap BlueJackets, and graduated from Central Kitsap High School. So he was very familiar with the WCL and the Knights even before he headed off to Moses Lake for the 2010 season.
"Last year I saw that the Knights were a good team," he said. "So when coach (SU coach Donny Harrel) told me I was heading to Corvallis, I hopped on it really quick. They win. I love winning, and I love summer ball."
Roberts' experiences with Moses Lake helped get him excited about playing for the Knights. Corvallis has claimed four consecutive WCL West Division regular-season titles and have appeared in three WCL Championship Series since moving to Corvallis from Gresham for the 2007 season.
As a Pirate, Nate lost 5 of 6 games to the Knights in 2010. And the Knights averaged nearly 1,100 fans in the three games played at Goss Stadium vs. the Pirates, twice the number that they played in front of at Moses Lake.
"The facilities - playing here at Oregon State, no rainouts, with the turf infield it's a nice venue and there's a lot of fans. That attracts me right there," he said, ticking off some of the positives of joining the Knights. "And the good players on the field, that appeals to me, very much so.
"I'm looking forward to meeting new people, making new friends, having a good time and playing some good baseball."