Knights Face Elks in WCL West Divisional Series.
August 10, 2010
Game One at Vince Genna Stadium Tuesday, August 10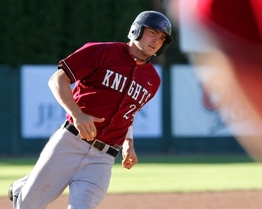 The Corvallis Knights and Bend Elks are familiar foes. The two teams have been battling since 2000 and are the only two Oregon teams in the West Coast League.
The Knights and Elks have finished one and two in the WCL West for the past three seasons.
Corvallis beat Bend 2 games to 1 in both the 2008 and 2009 WCL West Divisional Series.
The Knights captured game one last year, but the Elks rebounded with a game two victory at Goss Stadium before the Knights closed out the series with a game three win.
In 2008, the Knights had to win two straight at Goss to advance to the WCL Championship Series after the Elks took game one at Vince Genna Stadium.
Corvallis skipper Brooke Knight is sending redshirt junior-to-be Nick Hoover of UC Irvine to the mound for the Knights in game one. The Elks are expected to start ex-Knights' southpaw Ben Guidos of University of Washington tonight at Vince Genna Stadium. First pitch is scheduled for 6:35 pm.
Hoover is 2-1 with a 2.63 ERA in WCL action. The right-hander has struck out 34 over 27 1/3 innings pitched.
Guidos, a senior-to-be at UW, is 3-2 with a 2.09 ERA. The crafty southpaw tossed 9 shutout innings in his only appearance vs. the Knights this season.
Ben's gem did not earn a win as it took extra innings for the Elks to scratch out a 1-0 victory in the teams' final regular season meeting of the summer.
Following Bend's thrilling 10-inning Saturday night win at Vince Genna Stadium on July 17, both clubs went in opposite directions. The Knights got hot and Bend slumped.
With the Elks comfortably in first place with a 5 1/2 game lead over Corvallis, the Knights went on to win 14 of its 17 games and Bend lost 11 of its last 14 games.
The Knights finished the regular season 31-17 and Bend 27-21.
Corvallis is likely to see another ex-Knights' hurler in game two in junior James Nygren of Oregon State. Nygren is 4-0 with a 2.25 ERA and has arguably been the Elks' most effective pitcher.
Bend took both regular season series vs. the Knights, winning two games to one at Goss (June 15-17, 2010) and two games to one at Klamath Falls and Bend (July 15-17, 2010).
Nygren beat Corvallis in the Elks' home series opener held at Kiger Stadium in Klamath Falls as Bend pounded the Knights 12-2. That night, Elks' first baseman Andy Hunter of Gonzaga collected 7 RBI and blasted two home runs including a grand slam.
The Elks are led offensively by infielder Tommy Richards of Washington State. Richards won the WCL batting crown with a .364 average. The son of Bend owner Jim Richards, Tommy collected 33 RBI on the season to lead the Elks and both his home runs were at Goss Stadium.
Junior outfielder Daniel Dillard (pictured) of Western Oregon looks to lead Corvallis past Bend and into the WCL Championship Series, which is slated to open Saturday, August 14 at the West Divisional Series winner.
Dillard leads the team in HR with 5, RBI with 25 and stolen bases with 13.
The Knights are also led offensively by outfielder Michael Blake of Mt. Hood CC, junior first baseman Dylan Jones of OSU and frosh centerfielder Mitch Haniger of Cal Poly.
Blake leads Corvallis in hitting with a .344 batting average. Jones is hitting .336 with 10 doubles, 2 HR and 21 RBI. Haniger leads the club in walks with 22, runs scored with 26, triples with 5 and is hitting .299 with 3 HR and 18 RBI.
Frosh pitcher Chris Mendoza (3-2, 3.77) of Santa Clara is the Knights' probable starter for game two and junior Dustin Emmons (5-0, 2.43) of UC Riverside for game three (if necessary).
Game two is Wednesday, August 11 at Goss Stadium. First pitch is 6:35 pm. If necessary, game three is Thursday, August 12 at Goss Stadium at 6:35 pm.
Corvallis is 52-27 all-time (includes postseason games) vs. its archrival Bend. By year, 2-3 in 2000, 6-2 in 2001, 3-3 in 2002, 5-1 in 2003, 2-4 in 2004, 6-0 in 2005, 3-3 in 2006, 4-2 in 2007, 8-1 in 2008, 11-4 in 2009 and 2-4 in 2010.
The Knights climbed two more spots in the Perfect Game Crosschecker national rankings released this morning. Corvallis is now #10 in the nation.
You can listen to the entire series on KEJO 1240 AM. Mike Parker and Jason Schwartz call all the action.
NOTES: Guidos was the winning pitcher for the Knights in last season's WCL West Divisional Series clinching game three Corvallis victory vs. Bend. Frosh infielder Tyler Smith of Oregon State will not be with the Elks for the post-season. Bend lost starting right-hander Greg Davis (3-1, 2.06) of UC Santa Barbara to injury. Corvallis is without the services of ace pitcher Kyle Kraus (5-1, 1.75) of University of Portland due to injury.