Corvallis Knights 2012 Intern Team Features Five Select OSU College of Business Students.
February 27, 2012
Ansberry, Schulberg and Spathas Added to Spring/Summer Lineup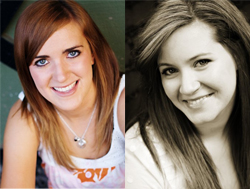 The Corvallis Knights of the West Coast League have named Amanda Schulberg, Elyssa Ansberry and Allie Spathas of the Oregon State College of Business as interns for the 2012 season.
A sophomore, Schulberg is a native of Henderson, Nev., majoring in business and sports psychology. Ansberry (pictured, left) is a junior from Lake Oswego who is majoring in biology, with a minor in business and chemistry.
Spathas (pictured, right) is a junior from Portland majoring in business entrepreneurship and marketing.
They will join Carli Sash, a junior from Jacksonville, Ore., majoring in Business Information Systems and Business Administration, with an international option, and Kaitlynn Phillips, a sophomore Merchandising Management/Business and Entrepreneurship major who grew up in the Marshall Islands before moving to Dallas, Ore., as 2012 interns.
These five young ladies will comprise the second class of OSU College of Business students to intern with the Knights. The team and the COB began its partnership in 2011, when five COB students worked for the team throughout the winter and spring terms and in the summer.
"We are pleased to welcome Elyssa, Amanda and Allie to the Knights family," Knights' president Dan Segel said. "They will be a great addition and they will be exposed to a real-world work environment.
"We value our mutually-beneficial relationship established with the College of Business through professor Colleen Bee. Our 2011 College of Business interns were outstanding and we anticipate that will be the case this summer as well."
This year's group was recruited by Jenny Baker, a 2011 OSU graduate from the College of Design and Human Environment who was a 2011 Knights' merchandise intern.
COB interns work with almost every aspect of the Knights' business. They receive academic credit and are exposed to the sports business via a wide range of preseason and summer projects that require critical thinking, creativity, enthusiasm and commitment.
"Our interns work directly with team sponsors and fans in sales, marketing and customer service, and in developing, organizing and running on-field promotions," Baker said. "They improve their business skills, gain practical experience, and get an opportunity to network with prospective employers in private business."
A graduate of Foothill High School in Henderson, Schulberg came to OSU on a gymnastics scholarship and competed for OSU's 2011 Pacific-10 Conference championship team before a series of knee injuries forced her to retire. She now serves as the team's undergraduate student assistant, and has earned a Provost Scholarship at OSU.
Ansberry attended Montana State for a semester before transferring to OSU. A graduate of Lake Oswego High School, she has worked at a variety of retail businesses in Corvallis and the Portland area and has earned a President's Education Award for outstanding academic excellence.
Spathas graduated from Lakeridge High School and attended TCU as a freshman before transferring to OSU. She works with special-needs youth in Corvallis with IMPACT, a physical activity program for children, youth, and young adults with special needs sponsored by the OSU College of Public Health and Human Sciences.
She also was a relief worker in Louisiana for three summers helping to rebuild buildings damaged by Hurricane Katrina; donated more than 300 hours of public service through the National Charity League, and has worked at several retail businesses in the Portland area.