Intern Earns Highest Team Honor.
October 6, 2016
Knights Statistician Mellisa Sullivan of Oregon State Named 2016 Staff Member of the Year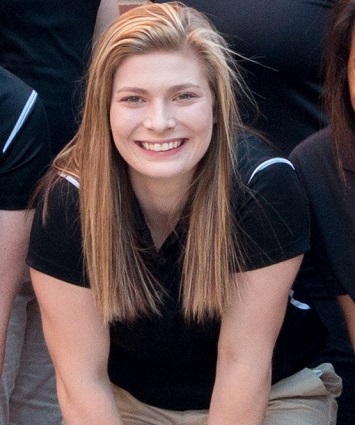 Oregon State senior Melissa Sullivan (pictured) has earned the Corvallis Knights Staff Member of the Year Award for the 2016 season, General Manager Bre Miller announced Thursday morning.
A native of Estacada, Sullivan was the Knights Pointstreak statistician for the second summer in a row. She also helped Director of Media relations Brooks Hatch with postgame quotes, and other pre- and post-game duties.
"Melissa finished her second season with the team by continuing to go above and beyond of what is asked and expected of her," Miller said. "She truly has the can-do-will-do attitude and accomplishes tasks with a smile."
The Staff Member of the Year Award is the highest honor in the Knights organization. Previous winners were Anna Seydel (2015); Brooks Hatch (2014); Lil' K and Mack the Knight (2013); Jeremy Ainsworth (2012); Bre Miller (2011); Doug Blair (2010); Brian Brooks (2009); Stro Strohmeyer (2008) and Holly Jones (2007).
Sullivan is the second intern, Seydel being the first, to earn the award.
OSU junior Ross Parker, the promo and partnership accountability intern, earned the Penny Knight Perseverance Award. He is a marketing major from Galt, Calif.
"Ross always wanted to please and put forth 150 percent of his best effort," Miller said. "He is a go-getter.
"When no one else stepped up to do something, you could always count on Ross to be the one who said, 'I'll do it!' His positive energy is contagious and he is a natural leader."
Kiel Larkin and Bryce Madden shared the Dan Segel Determination Award.
An OSU graduate in marketing, Larkin was the Goss Stadium operations/promotions intern.
"Kiel's determination helped get him his internship and he excelled at every opportunity," Miller said. "He never hesitated when tasked with a project and was always one of the last people to leave.
"Kiel is a hard-working, energized team player."
An OSU marketing and management major from West Linn, Madden was the promotions/advertising/operations/social media execution intern.
"Bryce did an awesome job making sure his role with the team was completed, and then some," Miller said. "He was tasked with our Social Media accounts and helped grow each account significantly with his consistency and creativity."
Garret Koonce, a sports business major at Oregon from Dallas, Texas, was the recipient of the Bre Miller Bravery Award.
"Garret was never afraid at a task thrown his way," even though he was one of the youngest interns, Miller said. "He offered new ideas and ways to improve processes. He was always there to lend a hand and is very hard-working."
Alex Barringer and Zoe Raiter shared the Holly Jones Hustle Award.
A returnee from 2015, Barringer is a native of Whittier, Calif., who is majoring in sports management at Dakota Wesleyan University. He assisted with ballpark operations, was a section leader and served as a general utility intern.
"Alex was again an inspiration to have around," Miller said. "Even though his job was done and he could have easily gone home, he wanted to stay and help out.
"With a smile on his face and silly jokes, Alex was very helpful and appreciated."
Raiter was the community relations/promotions intern. She is a sports business major at Oregon who grew up in Bend.
"Zoe ate up her community relations role, and more," Miller said. "She was always trying to find ways to better the team, and get us out to new areas in the community."