Oregon State Sweeps Cardinal at Stanford.
April 19, 2011
Knights Lead Beavers to #3 National Ranking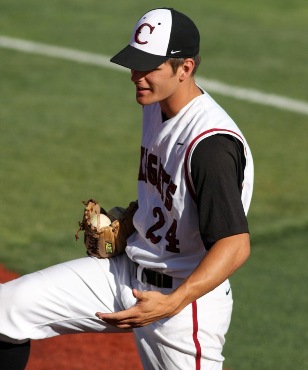 The footprints and fingerprints of the Corvallis Knights are all over the No. 3-ranked Oregon State baseball team.
Twelve former or future Knights play for the Beavers, who will take Baseball America magazine's No. 3 national ranking into this week's Pacific-10 Conference series against Washington State at Goss Stadium.
Six once or future Knights' pitchers have combined for 24 of OSU's 27 wins, and four of its 10 saves.
And nowhere was that Beavers/Knights connection more visible than last weekend at Stanford's Sunken Diamond.
Pitchers with Knights bloodlines won all three games, saved another, and put the Beavers in position to finish off the Cardinal in Sunday's finale to wrap up OSU's second-consecutive sweep of, and third-consecutive series win over, a nationally-ranked opponent.
Here's the skinny:
* Junior Sam Gaviglio (2009) pitched eight shutout innings in a 1-0 victory in the April 15 opener. He struck out eight, walked two, improved his already-outstanding numbers to 7-1, 1.19, and earned a nomination for Pac-10 Pitcher of the Week honors.
* Junior Josh Osich (pictured), who was named first-team All-WCL and tossed eight innings of one-run ball and earned the win vs. Wenatchee in the Knights' WCL Championship Series clincing victory in 2008, pitched into the seventh inning of the 8-1 win on April 16, and got the win. Matt Boyd, an honorable-mention WCL selection for the 2010 Knights, pitched three scoreless innings for his fourth save.
* And freshmen Scott Schultz and Ben Wetzler, projected mainstays of the team's 2011 staff, teamed up to top the Cardinal 6-4 on April 17, completing the sweep. Schultz allowed two runs in 4.2 innings; Wetzler allowed two in four innings, and earned his fifth win of the season.
Also, starter James Nygren (2008) is 5-1, 3.68 in eight games, and reliever Dylan Jones hasn't allowed a run or a hit in 2.2 innings in two relief appearances.
The Beavers (27-7) are also ranked No. 7 by Collegiate Baseball, No. 8 by ESPN/USA Today, and No. 9 by Perfect Game Crosschecker.
Not bad for a club that generated absolutely no preseason buzz and was picked to finish eighth in the Pac-10 preseason coaches' poll.
"I can tell that our confidence level has definitely jumped up the last two weeks, after sweeping two of the best teams in the country," said Schultz, a native of Gig Harbor, Washington.
"We're on a high right now. We all trust ourselves and our teammates to get it done, to get us wins."
Boyd, a sophomore from Mercer Island, Washington, credited the club's drive, and willingness to put team goals ahead of individual concerns, for the surprising surge to the top of the Pac-10 and national prominence.
"Everybody wants to get better each day, nobody is satisfied, that's the biggest thing," he said. "Day-in and day-out, everybody's working hard and we're not satisfied with one win.
We want to win, that's the biggest thing.
"If we're getting wins, that's all that matters. Whether [for him] it's throwing mid-relief, closing, starting, or if it's somebody playing outfield instead of first base...they do what's best for the team. That (attitude) will make us go far."
The Beavers have won nine games in row, the longest active winning streak in the country and the longest Pac-10 winning streak in school history.
Ironically, it started the day after one of the most lopsided losses in school history, an 18-0 thrashing by the Wildcats on April 1 in a mismatch the Beavers now laughingly call their April Fool's joke.
Such tears aren't unknown to senior pitcher/first baseman Dylan Jones, a 2009-2010 Knight. His home run, double and 4 RBIs in the Kngihts' July 3, 2009 Fireworks Night win over Bend helped Corvallis complete a 16-0 homestand that powered the Knights to the 2009 West Division title.
"We show up expecting to win every day, that's just what we have to do," said Jones, a second-team All-WCL selection in 2010. "We have great confidence right now and things are going the right way.
"We make sure to take it one game at a time, just play it day-by-day. We don't really look to far ahead."
Added Boyd: "It's mostly momentum; you get one win and things start clicking. It's almost hard to explain. You go out to the park and you expect to win."
Schultz (2-0, 3.21) and Wetzler (5-1, 4.38) have also figured prominently in OSU's success. Schultz was the winner in a 7-6 triumph over Arizona State on April 9 that clinched that series victory; he allowed just two hits and two runs in a five-inning relief stint after replacing Osich in the fifth inning.
"Winning is a mindset, it's something I like to do. I've never liked to lose," said Schultz.
"To come here and win my first year is great for the program and great for me."
Schultz had no idea what to expect as a freshman, but he's already started a Civil War game against Oregon and a Pac-10 game against Stanford at Sunken Diamond, one of the league's most intimidating venues.
"I came in here with an open mindset, I was going to accept my role, and I guess my role right now is to fill in when they need me to," he said. "If I get the ball, I'm going to throw it to the best of my ability.
"So far, so good, as long as I keep doing what I do. [Pitching coach Nate] Yeskie definitely put that mindset in our whole pitching staff, that it's up to what we do, not what the other team does or who the other team is. As long as we execute what we're trying to do, we're going to get out of it."
Schultz said he thinks his OSU success can be a springboard for a big summer with the Knights. He'll join the team several weeks after the June 3 opener at Walla Walla, either when spring term ends or when the Beavers are eliminated from the NCAA tournament, should they qualify.
"All of what I've accomplished so far and how well I'm throwing now really helps my confidence going into the summer," he said. "I'll have more confidence pitching in the bottom of the [strike] zone and really just trusting my stuff."
The Stanford series also enabled Boyd to catch up with Cardinal starter Dean McArdle, a 2010 Knights' teammate who started Sunday's game for Stanford.
"I talked to him on Saturday," during batting practice, Boyd said. "I just said hi. He said he's enjoying it and all.
"It's pretty cool when you make friends on your summer-ball team and get to play against them. You go out and get see everybody else...you've made friendships for life.
"It's very nice. You make memories during the summertime playing on this field right here [Goss Stadium], and you're never going to forgot them. It's pretty cool."
Beavers/Knights connection:
PITCHERS: Sam Gaviglio (2009), Josh Osich (2008), Taylor Starr (2008), James Nygren (2009), Matt Boyd (2010), Scott Schultz (2011), Ben Wetzler (2011).
UTILITY: Dylan Jones (2009, 2010).
POSITION PLAYERS: Andrew Susac (2009), Danny Hayes (2010), Jake Rodriguez (2010), Carter Bell (2009).
NOTE: Outfielder Jordan Poyer, who played with the Knights in 2010, played seven games for OSU this spring before leaving the team to concentrate on football. Freshman right-handed pitcher Tom Zarosinski and infielder Brandon Defazio are also on the Knights' 2011 roster but have not played yet this spring.