Knights Baseball Club, Inc. Strenthens Board of Directors.
January 22, 2015
Four New Members Added to Board including Portland Trail Blazers Vice-President Vince Ircandia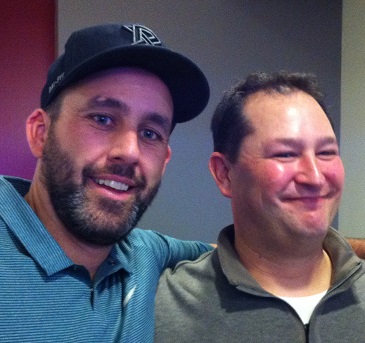 Knights Baseball Club, Inc. has added four new members to its Board of Directors, Corvallis Knights president Dan Segel announced Thursday.
The new additions are Vince Ircandia, the vice-president of business analytics and ticket operations for the Portland Trail Blazers; Jaimie Van Vleet, the administrative manager for Van Vleet Meat & Food Service; Mike Gits, a baseball field rep with Nike MLB Sports Marketing; and Gabe Sandy (pictured with Gits, right of Mike), the Northwest area scout for the Miami Marlins.
"This move strengthens an already solid board of directors, and positions Knights Baseball Club for future growth and increased community involvement," Segel said. "We can't be more pleased with these additions.
"All four new board members have supported the team for years, have been great friends and have provided meaningful counsel. Adding them bolsters our board, and strengthens our ties with a group of sharp young professionals that are well-respected in their respective industries and communities."
A native of Calgary, Vince Ircandia is the son of John Ircandia, the managing partner of the Okotoks Dawgs baseball club, one of the top amateur development program and community-based summer collegiate teams in North America.
His job focuses on ticket operations; organizational and departmental reporting; CRM/consumer insights; business opportunity analysis; email marketing, and ticket sales yield analysis. A graduate of USC, he previously was director of business operations and analytics for AEG Sports.
A native of Corvallis and a graduate of Crescent Valley High School and Oregon State, Van Vleet worked for the Knights from 2008 through 2013 before starting her current job. She started as an intern with the Knights before being promoted to the team's Director of Tickets & Player Housing. She is the first female KBCI board member.
Gits pitched for the then-Aloha Knights in 2000 and 2001 and then played professionally for independent teams in Kalamazoo (2002), Chillicothe (2003-2004) and Chico (2005). Gits pitched at Oregon State (1997-1999) and Western Oregon (2000-2001), and is a 2002 graduate of Portland State and a 1996 graduate of Wilson High School in Portland.
Sandy was an assistant coach for the Aloha Knights in 2005 and 2006. A nine-year scouting veteran with the Marlins, he previously coached for 12 years at Mt. Hood Community College before becoming a scout.
He played at Mt. Hood CC (1991-1993) and Portland State (1994-1995). He graduated from Franklin High in Portland in 1990 and from PSU in 1996.
Knights Baseball Club, Inc. operates the Corvallis Knights; Reser's Oregon All-Star Series, and the inaugural Portland Interscholastic League City Slugfest.
The four new board members will join sitting members Dan Segel; Joe Segel, the team co-founder; Tony Fair, cabbie and basketball official; Eric Gunderson, a former MLB pitcher with the Giants, Mariners, Mets, Red Sox, Rangers and Blue Jays from 1990-2000; Geoff Loomis, the head baseball coach at Pacific Lutheran; Jeff Moore, a field sales engineer at Linear Technology, and Don Nichols, SBU sales executive at Xerox.
Also, Doug Nichols, ex-regional vice-president of the home lending division at Flagstar Bank; Jeff Post, project manager, corporate services at Epiq Systems, Inc.; Randy Rutschman, teacher and assistant baseball coach at George Fox University; Rich Sermone, vice-president of sales at Coffee Bean International; Brett Smith, teacher and umpire, and Rob Stewart, developer, Greacen Homes in Kirkland, Wash.