Corvallis Staffs Up for 2014 Season.
February 4, 2014
Knights Introduce OSU College of Business Intern Lineup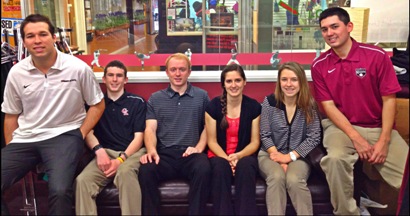 The Corvallis Knights have hired Brandon Nelson, Anna Aarons, Jeff Burrow, Steven Taylor, Josie Baker, Rachel Boucher and James Harmon as their Oregon State College of Business interns for the 2014 season.
(pictured left-to-right are Harmon, Taylor, Nelson, Baker, Aarons and Burrow. Boucher is not pictured)
They will be the fourth class of OSU College of Business students to intern with the West Coast League club. The Knights began their partnership with the COB in 2011, when five students worked for them throughout the winter and spring terms and in the summer.
"We are pleased to welcome this group to our organization for this season," Knights general manager Bre Kerkvliet said. "They will be a great addition and they will be exposed to a real-world work environment.
"We value our mutually-beneficial relationship we've established with the College of Business through professor Colleen Bee. Our previous interns from the College of Business have been outstanding and we anticipate that will be the case this year as well."
College of Business interns work with almost every aspect of the Knights' organization. They receive academic credit and are exposed to the sports business via a wide range of preseason and summer projects that require critical thinking, creativity, enthusiasm and commitment.
"They partner with team sponsors and fans in sales, marketing and customer service, and in developing, organizing and running on-field promotions," Kerkvliet said. "They improve their business skills, gain practical experience, and get an opportunity to network with prospective employers in private business."
A Hood River native who graduated from Hood River Valley High School in 2010, Nelson will graduate from OSU in June with a degree in business management. He played one year of baseball at Western Oregon and at Linn-Benton Community College before transferring to OSU. He is a member of Phi Kappa Psi fraternity.
Aarons is a junior from Eugene who graduated from North Eugene High School (2011), where she participated in cross Country, track, the Senior Council, and the Mr. North charity fundraising competition. She is majoring in sports communication, with a minor in leadership, at OSU and is a member of the Kappa Alpha Theta sorority.
A senior from Hillsboro who will graduate this fall, Burrow was born and raised in Tokyo before moving to Hillsboro at 12 years of age. A 2010 Century High School graduate, he was in band and played soccer and tennis for the Jaguars. He is a marketing major and also interns with the OSU Athletic Merchandising program.
Taylor is a 2013 graduate of Crescent Valley High School in Corvallis, where he played baseball and soccer. He also played for the T. Gerding Construction American Legion team. A freshman business major at OSU, he also belongs to the Marketing Club.
An Elkton native and 2011 Elkton High graduate, Baker played volleyball and basketball and was active in FFA. A junior marketing major at OSU who also belongs to the Marketing Club, she will graduate in 2015.
A 2010 West Linn High graduate who played basketball, lacrosse, and soccer for the Lions, Boucher is a senior at OSU who will graduate this June with a major in marketing and a minor in visual arts. She belongs to the Marketing Club, the Kappa Kappa Gamma sorority, and was a volunteer basketball coach for Special Olympics.
Harmon graduated from La Salle High School in Pasadena, Calif., where he played football and baseball. A senior business management major, he worked for the OSU ticket office in 2012 and is a member of the Phi Kappa Psi fraternity.
The interns will also help market the Knights-run Reser's Oregon All-Star Series, scheduled for June 14-15 at OSU's Goss Stadium.