Corvallis 2010 Team MVP Dylan Jones Makes Most of Visit to Australia.
December 3, 2011
Ex-Knights Two-Way Star Earns Opening Day Roster Spot with Perth Heat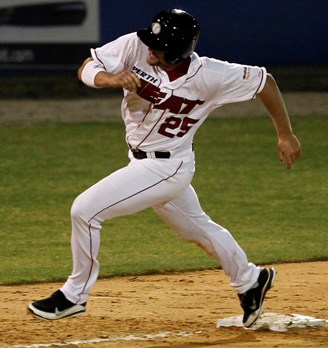 Dylan Jones (pictured rounding third for the Perth Heat of the MLB-funded Australian Baseball League) did not want his final memory of organized baseball to be his nightmare spring with the 2011 Oregon State Beavers.
The two-way player from Aloha, Oregon suffered a hand injury just before the season started and that knocked him for a loop.
The former Corvallis Knights standout (2009-10) never could recapture the form he displayed in 2010 as an OSU junior and as a second-team All-WCL selection in his second summer with the Knights.
He hit a meager .105 and played in just 10 games last spring, quite a comedown from a robust 2010 spring in which he hit a healthy .329 in 31 games.
But there are second chances in baseball, even if you have to go halfway around the world to get the opportunity. And the personable 22-year-old from Aloha High School plans to make the most of his, either with the Perth HEAT of the Australian Baseball League or the Morley Eagles, their affiliate team.
Dylan parlayed an impressive performance in the Heat's pre-season exhibition series with the USA All-Stars into a roster spot for the Heat, who are 11-2 and in first place in the ABL after starting the season with eleven consecutive victories.
Jones hasn't played in a game yet. But the fact he made the opening-day roster is a good indication that he's rediscovered the form he showed with the 2010 and 2011 Knights and at OSU in 2010.
"The injury was a big setback," Jones said. "I was not able to contribute as I would have liked to, but we had a great season and it was a fun experience making it to Super Regional with such a great group of teammates.
"It is pretty exciting to have a chance to play with the Heat, it's a great opportunity. I was not really expecting to start the first series with them, but I was ready to play and had a lot of fun with it.
"I have an idea that if I did well in preseason and in practice sessions I would have a chance to play with them."
The Heat are managed by Brooke Knight, who just happened to be Jones's skipper on the Knights. But all that relationship got him was a roster spot with the Morley Eagles, the Heat's affiliate team. Jones earned his berth on the Heat all by himself, with hustle, hard work and a hot bat.
"Coach Knight said I would have a chance to play with the Heat if they needed me," Jones said. "I think I'll be used more as a bullpen pitcher, but may get an at-bat here or there."
Knight said Jones' versatility and baseball savvy make him a valuable commodity, either as a pitcher or position player.
"He really understands how to play the game," Knight said. "It is really rewarding to be able to give Dylan this opportunity and I know he will be doing his best to make the most of it."
Dylan's commitments to Morley, which is coached by former Knights' star/assistant Billy Clontz, may limit his time with the parent Heat.
"He may not be able to travel with us due to his [Eagles] commitments," Knight said. "I could see him helping us over New Year's Eve in Adelaide potentially," when the clubs meet again on Dec. 29-Jan. 1.
Jones played for the Knights in 2009 after his sophomore season at Mt. Hood CC, and again in 2010, after his junior year at OSU. He was named second-team All-WCL in 2010 after hitting .329, with two homers and 22 RBIs as a position player, and going 2-1 with a 4.05 ERA and a save as a pitcher.
San Francisco Giants farmhand Alex Burg of Washington State, the MVP of the Knights' 2008 WCL championship club, is catching for the Heat (and leading the ABL in home runs). Former Knights' pitcher Liam Baron (2008-09), a Perth native who played at Linn-Benton Community College and Gonzaga, played for the Heat in 2010 but has been reassigned this season.