Ex-Knights Star Dylan Jones Returns to Oregon State.
November 28, 2012
2010 Team MVP Serving as Undergraduate Assistant Coach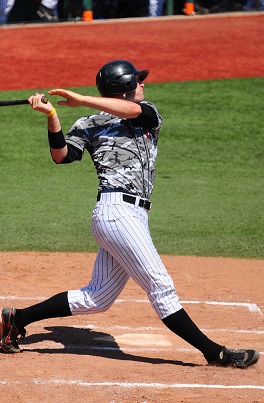 Dylan Jones (pictured) isn't quite ready to step away from baseball.
The former Corvallis Knights standout (2009-10) has returned to Corvallis and Oregon State and is serving as the Beaver baseball team's undergraduate assistant this season while finishing up his degree.
"I talked to the (OSU) coaches about coming back for a fifth year and helping out," Jones said recently. "If I can still be part of baseball, that's a big plus."
Now 23 years of age, Jones will graduate after spring term with a degree in communications. Until then, he'll try to help the Beavers reach the NCAA tournament, as they did when he played there in 2010 and 2011.
"I'm helping the first basemen, throwing batting practice, hitting fungos, doing whatever they need me to do," he said. "I'd like to stay around the game as long as possible."
Jones wasn't drafted after his senior season at OSU and didn't sign as a free agent. But he still had the itch to play, so he hooked up with Knights' coach Brooke Knight and landed a spot with the Knight-coached Perth Heat in the Australian Baseball league.
He was a position player and a pitcher for the Heat, and helped them to a second-consecutive ABL championship. Ex-Knights' Liam Baron (2008-09) and Alex Burg (2008) also played on the title team.
"I loved it over there, it was a great time, a great experience to go over there with two or three of my good friends and win a championship," Jones said.
Jones had two solid seasons with the Knights and helped them capture two West Division regular-season titles. The 2009 team lost to Wenatchee in the WCL Championship Series; the 2010 club lost to Bend in the West Division playoff series.
He hit .274, with a homer and 30 RBIs in 2009, after his sophomore season at Mt. Hood CC. He improved to .336 in 2010, with two homers and 21 RBIs, and earned Knights' MVP honors after his junior year with the Beavers.
He also pitched, and went 2-0 with a 4.15 ERA in 2009 and 2-1 with a 4.20 ERA in 2010.
"The most fun was meeting new people each summer, and the camaraderie we developed," he said. "It was also fun because we were always very competitive, and really wanted to win.
"We had great support from the fans, hearing all those people come out for a summer ball game is nice," he added. "And I made some good friends who I still talk to today."