Ex-Knight Aces Duel at Bafaro Stadium in Forest Grove, Oregon.
April 27, 2013
Max Beatty of PLU and Rob Dittrick of Pacific Go the Distance; Beatty Shuts Out Boxers 1-0 in Classic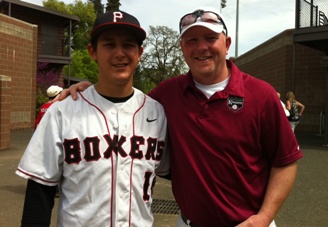 In a classic pitcher's duel at Pacific University, former Knights' Max Beatty of Pacific Lutheran and Rob Dittrick of Pacific (pictured after today's game with Knights' president Dan Segel) tossed complete games this afternoon at Bafaro Stadium in game one of a Northwest Conference doubleheader that was played in one hour and 48 minutes.
Beatty was the benefactor of the contest's only run and recorded the shutout to earn the win, while Dittrick was the hard-luck loser.
Beatty, a redshirt junior from Vancouver, Washington, allowed five hits while walking none and striking out 12 to improve his spring record to 7-4.
Hawaii native Rob Dittrick closed his collegiate career with one of his best outings as the senior right-hander held the Lutes to one run on five hits while walking none and striking out three. Dittrick pitched for Corvallis last summer where his 1.10 ERA was the lowest in the West Coast League.
Max pitched the past three summers with the Knights and was the staff workhorse for the team's 2011 WCL championship club. Beatty now looks forward to the MLB June draft with the hopes of embarking on a professional career this summer.
To watch video highlights from this classic duel featuring former Knights and arguably the top two pitchers in the Northwest Conference, please click here.