Holy Cow. Cubs Win! Cubs Win!
November 3, 2016
Former Knights Skipper Matt Dorey - Chicago's Director of Amateur Scouting - Helps Build World Series Champion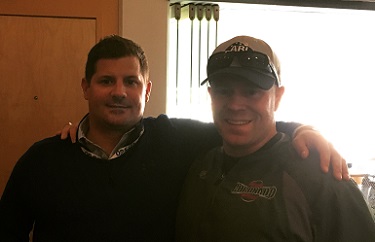 Young slugger Kyle Schwarber of the uber-talented Chicago Cubs played an instrumental role in the Cubbies first World Series championship since 1908. Last night at Progressive Field in Cleveland, the second-year player from Indiana University collected three hits and started the Cubs tie-breaking 10th-inning two-run rally with a lead-off single in the winner-take-all game seven won by Chicago 8-7; and a man with Corvallis Knights ties was a big part of making all this possible.
Matt Dorey's name might fly under the radar for most baseball fans, but in Corvallis and in college and pro baseball circles his name is very familiar.
Dorey (pictured with Knights head coach Brooke Knight at Dodger Stadium during the NLCS) has been with the Cubs dating back to 2012 when he was hired to their scouting staff as one of two national crosscheckers after working four years as an area scout for the Boston Red Sox.
He was brought to Chicago in 2012 by general manager Theo Epstein who was in his second year at the helm of Cubs baseball operations after also coming over from Boston.
Epstein famously assembled the 2004 and 2007 World Series champion Red Sox teams, the first of which broke an 86 year title drought. In 2011, he departed the Red Sox for Chicago, another city looking to break a lengthy "curse".
After less than a year as a national crosschecker, Dorey was promoted by Epstein to director of amateur scouting.
In his new post, Dorey manages a scouting staff of approximately 25 individuals in areas including evaluation, scheduling as well as budgeting and administration tasks.
Before he was in charge of the amateur scouting department of one of baseball's iconic franchises, Dorey made a name for himself during a successful playing and coaching career in the Pacific Northwest, including a tenure as head coach of the West Coast League's Corvallis Knights.
Like most, Dorey's baseball career began on the field, playing collegiately at Mt. Hood Community College (NWAC) for former Knights skipper Dale Stebbins and then for Portland State University.
While playing at Portland State in 1996, Dorey became roommates and teammates with somebody he had known across the field since high school. That somebody was Donnie Marbut, now the President of the West Coast League.
The two played against one another in high school and again in junior college when Marbut attended Edmonds Community College.
When their playing days came to an end, both individuals turned to coaching as the next chapter in their baseball lives.
Dorey's first collegiate coaching job was as an assistant with his alma mater, Mt. Hood CC, for two years (2004-2005) under then MHCC head coach and current Knights Baseball Club, Inc. board member Gabe Sandy who scouts for the Miami Marlins.
Meanwhile, Marbut returned to the NWAC as well, first as an assistant coach at Bellevue Community College in 1999 and then becoming the head coach at his alma mater Edmonds Community College for four years from 2000-2003.
After one year as an assistant at Washington State University in 2004, Marbut was elevated to head coach for the 2005 season.
Once in his new post, Marbut placed a call to his former college teammate and roommate, and the two were reunited on the Cougars coaching staff with Dorey being named a volunteer assistant coach.
The two coached together at Washington State for two years with Dorey's responsibilities including outfielders, base runners and hitting assistant in addition to coaching first base.
In 2007, the Aloha Knights (now the Corvallis Knights) relocated from Gresham, Oregon to Corvallis and Goss Stadium.
Matt Dorey was named head coach. It was a good fit for the Knights and a natural progression for Dorey, a former collegiate player from the Northwest who had become an NCAA Div. 1 assistant coach.
In his first season as a head coach, Dorey guided the short-handed Knights to a 27-15 record in West Coast Collegiate Baseball League play (now WCL) and their first-ever berth in the league championship series.
While Corvallis lost to Moses Lake in the finals, Dorey excelled in his management role getting the very most out of his players and exceeding all expectations as a head coach.
"Working with Matt Dorey was an absolute pleasure," said Knights team president Dan Segel. "He was a next level thinker and his professionalism and makeup were absolutely off the charts."
"We couldn't be more pleased for Matt," Segel said. "This is no surprise. He's really, really good at what he does and has obviously already done amazing things with the Cubs."
Dorey was prepared to return to the Knights for the 2008 season when he got a call.
The Boston Red Sox had an offer. But it meant a slight change of course.
Dorey's steady ascension through the collegiate coaching ranks, culminating in his year as skipper of the Knights, had garnered him attention as a skilled evaluator of talent.
Matt said yes to the Red Sox offer to become their new Northwest area scout. After two years in the Northwest, Dorey was shifted to Texas and Louisiana for two years before the Cubs came calling.
The connection to Kyle Schwarber? He's Dorey's guy.
With the Cubs still languishing in last place in 2013, Epstein, Dorey and company were looking for a big league ready, impact player in the 2014 MLB June draft.
That is exactly what they found.
Dorey led the Cubs scouting staff that discovered Schwarber at Indiana and believed in him so much they selected the catcher/outfielder with the fourth overall pick in the draft. While some questioned the pick, Schwarber burst onto the scene in 2015, hitting 16 home runs in 69 games at age 22 and starred in this year's World Series.
Most thought the young star who had very quickly become an integral part of Epstein and manager Joe Maddon's formula, was lost for the 2016 season after tearing his ACL and LCL on April 8.
However, Schwarber made a remarkable comeback, returning in time for the World Series where he proceeded to bat 7-17 (.412) with two RBIs including a 3-for-5 night in the decisive World Series game seven.
71 years separated World Series appearances for the Chicago Cubs and 108 years passed between fall classic titles for the North Siders. Though he likely won't get any of the headlines, Matt Dorey made a very tangible contribution to this historic occurrence.