Mitch Haniger of Cal Poly Named WCL Player of the Week.
July 26, 2010
Big West Freshman of the Year Powers Knights to First Place and National Ranking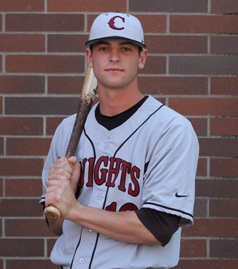 2010 Big West Freshman of the Year Mitch Haniger (pictured) of Cal Poly powered the Knights to a 6-0 week, all home victories for Corvallis, and into a first place tie with Bend in the WCL West to earn WCL Player of the Week honors.
With the wins, the Knights improved to 23-14 in the WCL and 27-14 overall, which was good enough for Perfect Game Crosschecker to rank Corvallis #18 nationally.
The ranking, released this morning, is the Knights first this season.
Corvallis finished #8 in the nation last summer after reaching as high as #3.
Haniger hit .368 for the week with 2 HR and 5 RBI.
Mitch delivered a dramatic game-tying ninth-inning home run this past Saturday night to force extra innings vs. Moses Lake.
Corvallis went on to win 4-3 in 12 innings to sweep its second consecutive series.
The sophomore-to-be from Santa Clara, California is batting .313 for the season with 3 HR, 15 RBI and a team-leading 10 stolen bases.
This past spring, Haniger hit .326 with 15 doubles, 7 HR and 46 RBI.
Haniger was selected in the 31st round of the 2009 MLB draft by the New York Mets.