Alum Brandon Jackson of Oregon State Quietly Gets the Job Done.
May 8, 2014
Beavers Ranked #2 Nationally; Bullpen Continues to Improve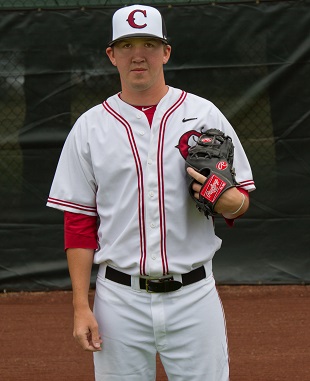 Ben Wetzler.
Jace Fry.
Scott Schultz.
The list of Corvallis Knights alums on the pitching staff of the #2-ranked Oregon State Beavers (by Baseball America) is impressive indeed. The aforementioned trio - each of whom won games in last weekend's sweep of California - is a combined 22-3 with four saves, and is a major reason the Beavers are contending for a repeat Pacific-12 Conference championship and a return trip to the College World Series.
But another Knights' alum is also making his mark on the mound with the Beavers, albeit in a much quieter, less-spectacular fashion.
Senior right-handed reliever Brandon Jackson (pictured), a member of the 2012 Corvallis team that fell to Wenatchee in Game 3 of the West Coast League Championship Series, has a perfect 0.00 ERA in 10 games and has allowed just three hits in 7.1 innings.
The 22-year-old Roseburg native credits his summer with the Knights for helping him transition from Arizona Western JC to Oregon State. He was 2-0 with a save and 14 strikeouts in 15.2 innings, with a 5.17 ERA in 10 relief appearances in 2012.
"It helped me a lot," Jackson said recently in recalling his stint as a Knight. "It's a day-to-day thing, like college baseball. It was pretty much a job. Playing with the Knights opened my eyes; you have to be ready every day because you could throw today, tomorrow or the next day.
"I thought Brooke [Knights' head coach Brooke Knight] did a great job helping us get ready for the next college year. He made us compete and made us be accountable for ourselves every day."
The Knights fell one game short of a repeat title that year, as they lost 8-3 at Wenatchee in the rubber game of the best-of-3 Championship Series.
Jackson didn't pitch in the playoffs, and losing left a bad taste in his mouth, but overall he had a wonderful, memorable experience.
"It was tough [losing to Wenatchee], because I'm pretty competitive and love to win all the time," he said. "I would have loved to get that ring. It is summer ball, but you play all summer, you're passionate about it, and you want to win.
"My best memories were the bus rides, staying in the hotels, meeting the new guys, learning where they were from, getting to know different people. That's sports in a nutshell, getting out of your shell and meeting other people. That was the most fun for me."
That summer, and the ensuing fall practice with the Beavers, also revealed that Jackson would have to make some changes in his pitching style to succeed at higher levels. What worked in junior college wasn't good enough in top-level summer ball and the Pac-12 Conference.
So he met with OSU pitching coach Nate Yeskie, did some independent research and transformed himself into a submariner. It worked; a fringe member of the pitching staff after fall, he became a key part of the 2013 OSU staff and went 4-1 in 19 appearances, with a 2.48 ERA, a save and 19 strikeouts in 29 innings.
"Nate and I talked a lot about it; he gave me some tips, even though he'd never done it before," Jackson said. "Then I looked at videos of big-league pitchers; I even looked at [UCLA's] David Berg a couple times, because he's a successful sidearm pitcher.
"There are guys like Darren O'Dea of Baltimore and Brad Ziegler of Arizona. I watched video of them to try to get a feel for this submarine deal. I looked at what they did, and why it worked. There was a lot of research that went into it."
His pitches stay lower in the zone and have more movement, which results in more swinging strikes and more ground balls. It's not a stretch to say the change saved his career.
"It might have," Jackson said. "I don't know if I'd have gotten the chance I have now if I was just a quote 'normal pitcher' unquote."
"I have more precision in my pitches. I can pitch to both righties and lefties. The arm slot I have helps a lot."