Ex-Knight Ace Tommy Hanson of Atlanta Earns Opening Day Start for Braves.
April 4, 2012
Six Former Knights Make Big League Rosters Including Matt Hague of Pittsburgh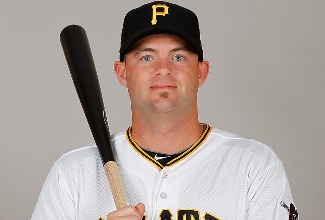 A Knights' alum will throw the first pitch of the season for the Atlanta Braves on Thursday when they face the New York Mets at Citi Field in New York City.
Atlanta manager Fredi Gonzalez informed Hanson of his opening-day selection this past Saturday, and the former Riverside City College standout is very eager to get started.
"I'm real excited - it's a huge honor," said Hanson, who played for the Knights in 2005, in an interview with the Atlanta Journal-Constitution. "I wasn't really expecting it, so when I found out I was really excited and I'm definitely looking forward to it.
"It's a pretty big deal."
Hanson is 32-22 in three major-league seasons and was 11-7 in 2011. He missed the final two months with a shoulder injury; his absence played a major role in the late-season collapse that knocked Atlanta out of the playoffs on the final day of the regular season.
Tommy worked to alter his delivery in an attempt to lessen the strain on the shoulder in the off-season. Now completely healed, he had a solid spring. He threw 52 strikes in 80 pitches on March 31 in his final Grapefruit League start, and finished spring with a 2.77 ERA in three official starts.
"All through camp I felt good," Hanson said. All my pitches feel really good. I feel like I'm ready for the season."
Hanson is one of six former Aloha or Corvallis Knights to make an opening-day major-league roster. The others are Chicago White Sox third baseball Brent Morel (2006-07); Houston right-handed pitcher Bud Norris (2005); St. Louis left-handed pitcher Marc Rzepczynski (2006); Pittsburgh corner infielder Matt Hague (2005) and New York Yankees catcher Chris Stewart (2001).
Hanson and Stewart played at Riverside City College. Morel and Norris played at Cal Poly; Rzepczynski played at UC Riverside and Hague played at Washington before transferring to Oklahoma State.
Morel became the first Corvallis Knight to make the majors when he was called up in September, 2010, for the final month of the season. He spent all of 2011 with the White Sox and hit .245 in 126 games, with 10 homers and 41 RBIs, and closed his rookie campaign in spectacular fashion by hitting eight homers in September.
"Toward the end, I relaxed a little bit and was more selective and patient up there," Morel said. "That helped me out," and led to his power surge.
He also drew raves for his defensive work. New ChiSox manager Robin Ventura, who won six Gold Glove Awards in his lengthy MLB career, told the Chicago Tribune that Morel could be a better fielder than he was.
"He's a really talented third baseman and offensively he's understanding his swing better and what's taking place," Ventura said. "I'm excited he's with us and we have him for a while because he's pretty talented."
Norris will be Houston's No. 3 starter. He was 6-11, 3.77 in 31 starts last year, with a career-best 176 strikeouts in a career-high 186 innings.
"Nothing is going to come to you that easy," he told the Houston Chronicle. "You have to go out and earn it, earn those accolades if you want them.
"I think I have a real opportunity to keep enhancing myself and getting better, and that's what I'm striving for. Yeah, I believe it's there at times. I'm just trying to hone it and make sure it's there every fifth day."
The hurler from Marin, California begins his fourth major-league season with a career 21-24 record, a 4.33 ERA and 388 strikeouts in 395.1 innings.
"Bud has been developing into a good major league starting pitcher," Houston general manager Jeff Luhnow told the Chronicle. "He has the potential to be an All-Star-caliber pitcher and to be a key part of the Astros' future.
"There are times when he takes the mound where he competes like a top-of-the rotation starter, being both efficient and effective."
Rzepczynski became the first former Knight to earn a World Series ring when the Cardinals rallied to edge Texas 4-3 in the 2011 Fall Classic. Acquired from Toronto in August, the UC Riverside product was used primarily as a situational reliever and faced just one batter in nine of his 28 appearances with the Cardinals.
He should see more extended duty this season, new Cardinals' manager Mike Matheny said. Lefties have hit just .205 against him in 96 career games; righties are somewhat better, at .266.
"He's going to be a guy that we can have some flexibility with," Matheny told MLB.com. "I think his numbers prove that, too."
Zep had starting experience in Toronto and he's looking forward to playing a larger role with the Cardinals.
"I like going out there to face at least a few hitters instead of just getting one guy out," he told MLB.com. "I love getting that big out, but at the same time I like pitching against right-handers, too. I know I can get right-handers out. I showed that when I started."
The southpaw was outstanding in the playoffs. He did not allow a run in 2.2 innings in four World Series games, and gave up just one run in 4.2 innings over five appearances against Philadelphia in the National League Championship Series.
"Pitching in the playoffs, that was the biggest stage you can pitch on," he said. "Now that I've done that, I know that I can go out and pitch anytime and not worry about the ups and the downs during the season."
The Knights' 2001 MVP, Stewart has played for five clubs in parts of five big-league seasons. He stepped in for the injured Buster Posey in 2011, played a career-high 67 games, impressed defensively, and hit .204 with three homers and 10 RBIs.
Chris was traded today to the New York Yankees where he will backup starting catcher Russell Martin.
Hague (pictured) was an International League all-star with Indianapolis in 2011 and made Pittsburgh's 40-man roster in the offseason. He parlayed that promotion into a strong spring, and he led the Pirates with seven homers and a team-high .385 average in the Grapefruit League.
Known as the "Hit Collector" Hague smacked six homers and 15 hits in his last 37 at-bats (.405). He will soon make his major-league debut.
"I'm just taking my shot to drive the ball more often," Hague told the Pittsburgh Tribune-Review newspaper. "It's a mentality thing, not selling myself short. I constantly remind myself to get a pitch to drive."
Another ex-Knight with major-league experience, infielder Bobby Scales (1997) of University of Michigan, was released by the Cubs, with whom he played in 2009 and 2010. He hit .188 (3-16) with an RBI and a stolen base with the Cubs this spring. However, he was immediately signed by the New York Mets and assigned to Buffalo, their International League affiliate. Scales had three homers, 17 RBIs and a .248 average in 61 games with the Cubs in 2009-10.
Several other former Knights appeared in major-league spring training games before being handed their minor-league assignments.
* Catcher Andrew Susac (2009), the San Francisco Giants' second-round selection in the 2011 draft, was 1-for-2 in three games. He, ex-Oregon State teammate Josh Osich (2008) and 2008 Knights' MVP Alex Burg of Washington State will all start the season at San Jose in the Class A-advanced California League.
* Outfielder Adam Melker (2008-09) of Cal Poly hit an RBI double in his lone at-bat with the St. Louis Cardinals. He'll play for the Springfield (MO.) Cardinals in the double-A Texas League this season.