Eight Knights Make Perfect Game Top Thirty WCL Prospects List.
September 9, 2016
UC Irvine Southpaw Cameron Bishop of Corvallis Ranked #1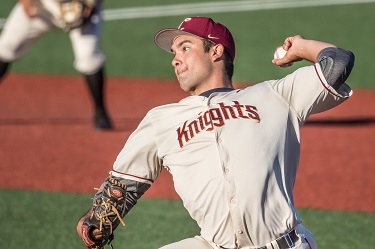 Left-handed pitcher Cameron Bishop of the Corvallis Knights is ranked as the No. 1 pro prospect in the West Coast League by Perfect Game.
The UC Irvine junior was one of eight members of the 2016 WCL-champion Knights on the 30-player list, compiled by Perfect Game reporter Mike Rooney and released yesterday.
Bishop was 1-3 with a 1.45 ERA in seven games WCL regular-season games, with 43 strikeouts in 31 innings. Overall, he struck out 56 over 40 innings pitched.
He was ranked the No. 2 prospect by Baseball America. He was also rated as the No. 1 prospect at the WCL All-Star Game as voted on by the pro scouts in attendance and was named second-team all-WCL.
Other Knights on Perfect Game's top prospect list were sophomore southpaw Hazahel Quijada of UC Riverside (pictured) at #10; freshman right-handed pitcher Louis Crow of San Diego (12); junior left-handed pitcher Chase Kaplan of Kansas (21); freshman infielder Scott Ogrin of Cal Poly (25); sophomore southpaw Ryley Widell of Central Arizona JC (27); senior center fielder Kyle Nobach of Oregon State (29), and sophomore catcher/first baseman Zak Taylor of OSU (30).
Kaplan was No. 10 on Baseball America's prospect list, which included just 10 players.
Quijada was 3-0, 0.83 in eight games, with 31 strikeouts in 32.1 innings. He earned honorable-mention all-WCL honors.
Crow, selected by Milwaukee in the 16th round of the 2016 MLB draft, joined the team late in the season and went 0-0, 3.17 in four games, with four strikeouts in 5.2 innings.
Kaplan was 2-2, 2.70 in 16 games, with nine saves and 24 strikeouts in 23.1 innings in WCL regular-season play. He pitched at Western Nevada JC in 2016 before signing with Kansas. Kaplan was named honorable-mention all-WCL and led the Knights in saves with 10.
Ogrin, who was selected in the 27th round of the 2016 MLB draft by Minnesota, hit .298 (25-84) in 30 games, with no homers and nine RBIs.
Widell was 3-1, 2.17 in 13 games, with 46 strikeouts in 41.1 WCL innings. He pitched at Washington State in 2016 but has transferred to Central Arizona College for his sophomore year. He earned honorable-mention all-WCL honors.
Nobach was named the Knights 2016 MVP, the MVP of the WCL All-Star Game and to the all-WCL first team. He hit .303 (46-152) in 41 games WCL regular-season games, with two homers, 22 RBIs and 16 stolen bases.
Taylor hit .309 (43-139) in 40 games, with a homer and 14 RBIs, and earned second-team all-WCL honors.