WCL All-Star Game to be Powered by PEAK.
March 29, 2011
Corvallis Knights Ink PEAK Internet as Presenting Sponsor of Midsummer Classic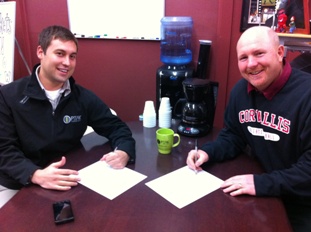 The 2011 West Coast League All-Star Game will be powered by PEAK.
The host Corvallis Knights and PEAK Internet announced yesterday that the leading Oregon-based Internet Service Provider will sponsor the WCL's revived midsummer classic, scheduled for 7:15 p.m. Tuesday, July 26 at Goss Stadium.
The game will officially be called the West Coast League All-Star Game, presented by PEAK Internet.
The festivities will also include a pre-game Home Run Derby and a post-game fireworks display.
"We have been a partner of the Corvallis Knights since their first season in 2007 as part of our commitment to support the local communities and we are thrilled to help them stage the WCL All-Star Game at Goss Stadium," said Michael Laport, Peak Internet's Director of Marketing.
"Great things can happen when two community-minded enterprises work together. PEAK and the Knights will do all we can to make this All-Star Game the best in WCL history."
Corvallis Knights president Dan Segel said PEAK Internet's involvement will only enhance the event and give the Knights, the WCL and PEAK added exposure with the City of Corvallis, Benton County and the Pacific Northwest.
"We expect people from throughout the region will stay, shop and dine in Corvallis while visiting for the game," Segel said. "And we are very appreciative of PEAK Internet's participation and commitment, not only to the All-Star Game but to the Knights ever since we came to Corvallis."
The All-Star Game will pit top players from the WCL's West Division against their East Division counterparts. It was not held in 2009 and 2010, after being played in Wenatchee in 2006, Bellingham in 2007 and Moses Lake in 2008, but was revived by the league's owners in the off-season. The Knights were awarded the game in large part because of the lobbying efforts of former Corvallis Mayor Charlie Tomlinson, Visit Corvallis and the Knights' hotel partners the Hilton Garden Inn and Holiday Inn Express.
"We promise to put on a great show and justify the league's faith in us," Segel said.
PEAK Internet is a leading Oregon-based Internet Service Provider and website hosting provider of the Corvallis Knights and Oregon All-Star Series. PEAK provides Internet and technology solutions for homes and businesses throughout the mid-Willamette Valley. From high-speed Internet to business IT service and productivity solutions, PEAK is your local technology partner.