Portland Shortstop Michael Lucarelli Earns Knights' 2014 MVP Honors.
September 11, 2014
Chris Haddeland of Linfield and Brandon Choate of Washington Named co-Top Pitchers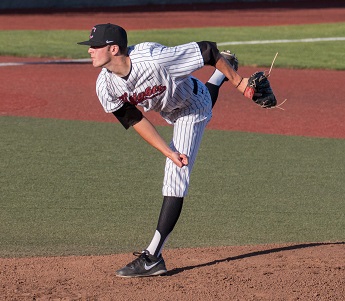 The Corvallis Knights announced their team awards today. Two-year Knight shortstop Michael Lucarelli of University of Portland was named the team's MVP and starting pitcher Chris Haddeland of Linfield (pictured) and closer Brandon Choate of University of Washington shared Top Pitcher honors.
Junior-to-be first baseman/outfielder Dalton Kelly of UC Santa Barbara earned Top Prospect recognition while his Gaucho teammate outfielder Scott Quinlan was the recipient of the Joe Segel Hustle Award.
"There were many deserving MVP candidates this past season. It was a tough pick, as Grant Melker, Kevin Kline, Dalton Kelly and Marc Gallegos were just as valuable, but Lucarelli stood out as the glue of this club, not to mention the spirit," said Knights' president Dan Segel. "He really elevated his game this summer and we are pleased to honor him for his efforts, enthusiasm and outstanding performances."
Lucarelli, a senior-to-be at UP, led all WCL shortstop in assists with 162 and played in all 54 WCL games to lead the league in games played. His defense down the stretch was stellar and he hit a solid .265 overall with 3 HR, 11 doubles, 35 runs scored and 13 stolen bases.
The co-Top Pitchers were the team's two workhorses. Haddleland, the reigning DIII Pitcher of the Year, led the club in innings pitched with 75 overall and went 4-4 with a 3.28 ERA during the WCL regular-season. Choate led the team in saves with 10 and went 2-0 with a 1.01 ERA over 20 appearances. The hard-throwing right-hander struck out 23 over 26.2 innings pitched. Both Haddleland and Choate were named 2014 WCL All-Stars and will be seniors this coming Fall at Linfield and Washington, respectively. Choate was a second-team All-WCL selection.
Sweet-swinging and slick-fielding Dalton Kelly enjoyed a breakout summer earning first-team All-WCL honors and attention from pro scouts. Quinlan's high-energy and fierce play earned the senior-to-be the team's Hustle Award named after franchise co-founder Joe Segel.