Corvallis Announces Complete Roster.
January 4, 2016
12 Knights Returning in 2016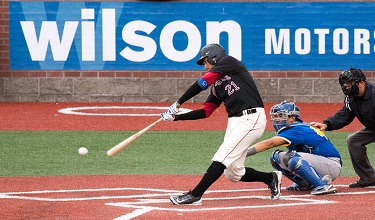 The Corvallis Knights unveiled their 2016 roster this morning at corvallisknights.com. To check out the complete roster, click here.
The roster features 12 returnees including junior slugger Michael Farris of UC Riverside. Farris (pictured at Goss) led the Knights in home runs with 5 and RBIs with 32 last summer. The right-handed hitting third baseman/first baseman earned honorable mention all-WCL honors in 2015.
In addition, honorable mention all-WCL outfielder Emilio Alcantar of Lewis-Clark State College and pitcher Slater Lee of Cal Poly are also returning. Alcantar led Corvallis last season in hitting (.312), at bats (189), hits (59), hit-by-pitch (8) and tied Farris for the team lead in RBIs (32). Lee posted the team's lowest ERA (2.56) and started the 2015 WCL All-Star Game at Joe Martin Field in Bellingham.
Rising sophomore two-way player Cameron Bishop of UC Irvine is also returning with his Anteater teammates infielder Cole Kreuter and pitcher Michael Martin. Bishop led the Knights in doubles with 15 and struck out 35 over 25 innings pitched last summer.
Other returnees are sophomore pitchers Chase Kaplan of Western Nevada JC, Brendan Cutsforth of Treasure Valley CC, Caleb Henry of Corban and Derrick Mahlum of Pacific Lutheran; sophomore infielder/outfielder Taylor Travess of Mt. Hood CC; and frosh pitcher Craig Colen of Cal Poly.
After starting a partnership with University of San Francisco last season by way of catcher Ryan Matranga, the Knights signed three Dons for 2016 - frosh third baseman Riley Helland, sophomore outfielder Kyle Norman and junior pitcher Grant Goodman.
Three more West Coast Conference student-athletes are part of the 2016 roster, all Pilots from University of Portland - freshmen Cody Hawken (outfielder), Matt Kelly (infielder) and Cameron Richman (pitcher).
The roster also features four rising Oregon State Beavers including OSU starting left fielder junior Kyle Nobach.
Players representing Washington State, UC Santa Barbara, Grand Canyon, San Jose State, Dartmouth, Dixie State, Western Oregon, George Fox, Linn-Benton CC, Tacoma CC and Central Arizona College are part of the 2016 squad.
This year's club features two incoming frosh, future University of Washington catcher Nick Kahle of Chaminade College Preparatory (CA) and future Cal Poly infielder Scott Orgrin of Valencia High School (CA).