Corvallis Reintroduces Mack the Knight; Plus a New Mascot Surprise.
April 7, 2015
Knights Unveil Lil' King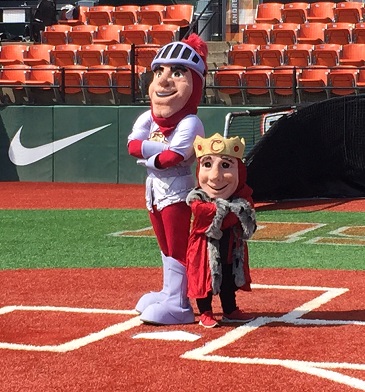 The excitement around the 2015 season is continuing to build for the Corvallis Knights. The team introduced a refreshed brand earlier this year, and they are now unveiling what the future looks like for the team's esteemed mascot, Mack the Knight.
"In February, we announced that Mack and Lil' K would be going away for an extended stay at Epic Day Spa to retreat to relax, rejuvenate and restore," said General Manager Bre Miller. "They have been well taken care of and are ready to unveil their new looks."
With the significant energy around the mascots' return, the team decided that the most appropriate way to convey the excitement would be via a music video.
"We are very pleased with the mascot music video," said Senior Vice President of Operations Holly Jones. "The upbeat, family-friendly video embodies everything the Corvallis Knights stand for. Baseball is be fun, and we could not be happier with how this video turned out!
In addition to showcasing a refreshed Mack the Knight, fans will also notice a new addition to the family.
"A knight does not become a knight unless royalty deems him as such. Thus, we felt it would be most appropriate to introduce a royal member to our mascot family. And, this is how Lil' King was born," said Jones.
You can catch Mack the Knight's video on the team's YouTube page.