Former Knight Brent Morel Gets Called Up to Bigs.
July 20, 2015
Infielder Reports to Pittsburgh Pirates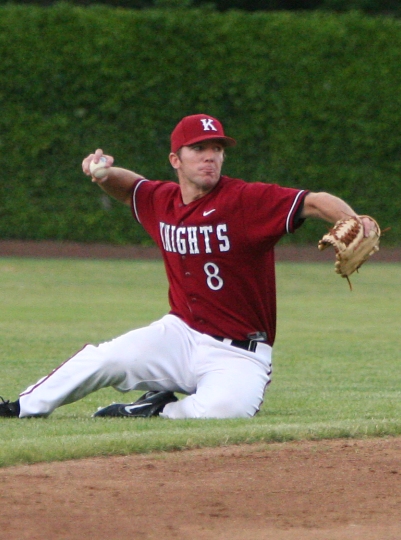 Brent Morel (pictured with the Knights in 2006 at Mt. Hood CC), the first Corvallis Knights alum to play in the major leagues, is back at baseball's highest level after a half-season in triple-A.
The Pittsburgh Pirates recalled the former Cal Poly star from the Indianapolis Indians of the International League on Monday to fill a roster spot created by an injury to starting shortstop Jordy Mercer.
Mercer has a sprained ligament in his left knee and is expected to miss about six weeks. Pittsburgh is also without starting third baseman Josh Harrison, sidelined until late August with a ligament injury to his left thumb.
Morel joined the Pirates in Kansas City on Monday. The Pirates moved Corey Hart, who has a knee injury, from the 15- to the 60-day DL to make room for Morel on their 40-man roster.
His main role will be relieving third baseman Sean Rodriguez, when he plays shortstop. He told the Pittsburgh Post-Gazette newspaper that he has no problem being a reserve.
"It's just experience," he said before Monday's game. "Almost like trial and error. Playing in the American League I didn't do it much, but my first year I also came in the game late to play defense.
"[I] didn't get used as much as pinch-hitter because of the American League, but had some experience there. Last year, getting a chance, being up three or four times, feel like I got it under my belt a little bit.
"[I'm] more prepared now than I ever was."
A five-year MLB veteran with the Chicago White Sox and the Pirates, Morel was hitting .266 (79-279) in 81 games, with nine homers, 47 RBIs and a .763 OPS, at Indianapolis and was one of their most productive players over the last six weeks.
A corner infielder, Morel appeared in 45 games at first base and 38 games at third at Indianapolis.
He is a .226 lifetime hitter in 217 major-league games with the White Sox and Pirates, with 13 homers and 58 RBIs.
Morel was honorable-mention all-West Coast Collegiate Baseball League in 2006 after hitting .284 in 43 games, with a homer and 21 RBIs. He returned to the Knights in 2007 but his season was cut short by injury after just three games.