Kevin Kline Ready to Join 2014 Dogpile.
April 22, 2014
Dixie State University Slugger Returns to Corvallis with Repeat Intentions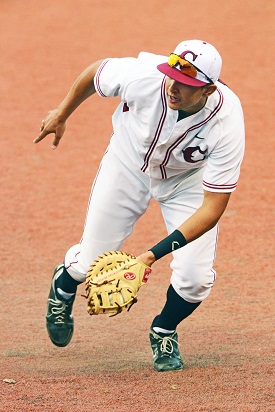 Kevin Kline (pictured) helped lead the Corvallis Knights to the promised land in 2013, but had to get off of the title train just before it reached the final stop.
This year the slugging junior corner infielder from Dixie State University hopes to make the entire trip and be on top of the dogpile come August, joining the Knights in celebration of a repeat West Coast League title.
Kline played in Game 1 of the Championship Series in Wenatchee last Aug. 17. The following day, however, he was dropped off at the Portland airport on the return trip to Corvallis; he flew home to Las Vegas that day and then headed up to Dixie State on Aug. 19 for the start of fall practice.
So, Kline followed Jorge Perez's 1-0, title-clinching victory over the AppleSox at Goss Stadium via computer from afar, and thus couldn't properly celebrate a championship he helped make possible with a standout summer.
"I wish I was able to be in Corvallis for the championship game and the dogpile," the 6-foot-3, 200-pounder from Las Vegas said recently. "But other than that, the thing that I remember most is all the guys I became close with and the lasting friendships I made."
He also made a lasting impression on opposing pitching staffs by hitting .302 (58-192) in 53 games, with four homers and 34 RBIs. He was honorable-mention all-WCL; was second on the Knights (and fourth in the WCL) in RBIs; tied for the team lead in homers, and was third on the team in hits.
"Being around great baseball minds in the coaching staff, I was able to become more comfortable and do the things that make me successful," he said.
His 2013 success has carried over into 2014. Kline was named to the preseason watch list for the Tino Martinez Award, given to the top player in Division II, but back spasms led to a slow start and he hit just .205 in his first 11 games.
However, as the spasms disappeared his batting average began a corresponding rise. He was hitting .305 (50-164) with six homers and 42 RBIs in 42 games following last weekend's series versus Cal State Los Angeles.
"After I got back to 100 percent, things began to flow again for me," he said.
He was also more comfortable heading into his second season at Dixie State. He played at Southern Utah as a freshman before transferring to the St. George, Utah, school, and there was an adjustment period.
So even though he had an outstanding sophomore season - he hit .349 (53-152), with six homers and 40 RBIs, was a second-team PacWest Conference all-star, a Daktronics Division II West Region second-team all-star, and made honorable mention NCBWA West Region all-star - he was ready for an even bigger junior year.
"I am much more confident knowing what is expected of me in my second year in this program, and the role that I have settled into allowing our team to succeed offensively," he said.
The Storm made the NCAA Division II playoffs in 2013 before being eliminated in the regionals. This spring they have a healthy lead in the PacWest Conference title race, and should again advance to postseason play.
If that happens, his reporting date to the Knights could be later than expected. But whenever he arrives in Corvallis, he's ready for another big summer.
"I can't wait to be back with the Knights for another summer, and look forward to competing for another championship!" he said.