PLU to Corvallis Pipeline Helps Fuel Knights.
March 22, 2012
WCL Champs Welcome Newcomers Outfielder Jacob Hoffman and Pitcher Chris Bishop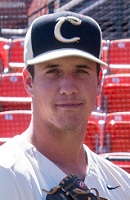 As the spring season enters conference action, two players at Pacific Lutheran University are preparing for more than just their Northwest Conference games. They are also prepping for their first summer season with the Corvallis Knights of the West Coast League.
Jacob Hoffman, a sophomore outfielder from Fircrest, Wash., and Chris Bishop (pictured), a freshman pitcher from Rochester Wash., will both be joining the Knights for the 2012 season. While they are excited for a summer of competitive baseball, they are first focusing on their goals of winning the Northwest Conference and making a run at regionals while at PLU.
"My goal is nothing less than a conference championship," Hoffman said. "We returned a lot of starters from last year and have a solid freshman class, so I like our chances."
Indeed, PLU is returning a lot of talent. Senior infielders Brock Gates and Knights' alum Corey Moore; and junior right-hander and Knights' returnee Max Beatty were all showcased in last summer's WCL All-Star Game hosted at Goss Stadium.
The Lutes, coached by Knights' alum Geoff Loomis, are currently 6-3 and in fourth place in the conference. PLU hosts Puget Sound this weekend.
Looking ahead to summer, Hoffman (.250 Avg., 3 HR, 13 RBI) and Bishop (2-1 W/L, 3.71 ERA) have high expectations for their time with the Knights. Bishop especially has great hopes for what a summer with the Knights will do for him.
"I came here from a small 1A school in Washington, so I never got the chance to get noticed," he said. "It has always been a dream of mine to play Major League Baseball, and playing for the Knights can't do anything but help me along the path to get there."
Hoffman and Bishop, who secured contracts through the help of Loomis, are looking to learn from their future Knights' teammates and coaches.
Loomis, who managed the Knights from 2000-2004, won a summer national championship in his final season as the head coach of the Aloha Knights as Aloha went undefeated at the 2004 NBC World Series winning the championship game vs. the Matsu Miners of the Alaska League.
Jacob said playing with the Knights will give him access to better competition, and a brand-new coaching staff and team that will help him develop as a player.
The Lute newcomers are not the first Knights to come from PLU. Beatty and Moore both played in Corvallis in 2011 and were key contributors on a championship club.
Moore described the experience as "helping him tremendously." He had high praise for the time the Corvallis coaches took to work with all the players one-on-one, and for the competition level among his teammates.
"Most players came from Division I colleges and facing that kind of competition was something that would only make me better," Moore said.
This summer Hoffman and Bishop will join Beatty and proudly represent PLU while hopefully leading the Knights to a great season and another WCL championship.
by Brenna Sussman, PLU student and future Corvallis Knights media intern.