Former Knights' Team MVP David Armendariz Rakes in Honors.
May 21, 2014
Cal Poly Pomona Senior Named CCAA Most Valuable Player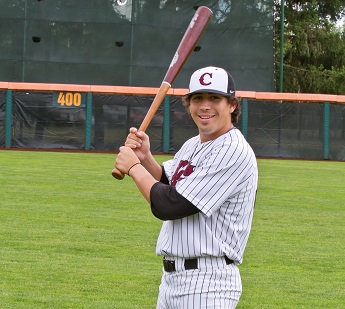 Most Valuable Player awards are becoming second nature to David Armendariz.
The senior first baseman at Cal Poly Pomona was the Corvallis Knights 2011 MVP. He earned his second, third and fourth such awards earlier this month when he was honored by the California Collegiate Athletic Conference as its Most Valuable Player, and by Daktronics and the National Collegiate Baseball Writers Association as their NCAA Division II West Region Player of the Year following an outstanding season with the Broncos.
Armendariz hit .332 (64-193) in 48 games, with 10 homers, 19 doubles, two triples, 56 RBIs and 10 stolen bases for CPP, which ended its season last week by going 0-2 at the NCAA Division III UC San Diego Regional. The native of Granada Hills, Calif., was second in homers (5) and RBIs (36) in league games only.
David was one of the emotional leaders of the 2011 Knights, who swept Walla Walla 2-0 in the WCL Championship Series to capture their second league title.
He hit .286 in 53 total games, with a homer, 28 RBIs, and 13 stolen bases. And was a second-team all-WCL selection and was also ranked as the league's 17th-best pro prospect by Perfect Game Crosschecker.
The Knights recently caught up with Armendariz for a quick Q&A.
KNIGHTS: You had an outstanding season, winning three MVP/Player of the Year Awards. Did it exceed your expectations?
ARMENDARIZ: "The season went really well. The coaching staff at Pomona gave me a lot of freedom when it came to my offensive approach. I talked to my coaches about driving the ball and using the center of the field and the pull side and they agreed that would benefit me most. It was a lot of fun playing with those guys too because they were great teammates and we had a lot of athletic players."
KNIGHTS: Was it difficult to leave Cal Poly, especially since it was obvious the Mustangs would be outstanding in 2014?
ARMENDARIZ: "It was not tough leaving SLO even though I knew they would have a great team this year. I wanted to play for a program that was surrounded with positive attitudes and that's exactly where I ended up. I appreciate everything the coaching staff at Pomona did for me during the transfer process. I knew that I had to leave for various reasons and wanted to have a fun, successful season for my senior year. I am very happy for my SLO teammates because they deserve to have success."
KNIGHTS: How much of an adjustment was it from the Big West Conference to Division II?
ARMENDARIZ: "Division II baseball is exactly like Division I. Baseball is baseball. With my teammates and coaches I did not have to make much of an adjustment."
KNIGHTS: What did you discover were the biggest differences between Division I and Division II?
ARMENDARIZ: "The biggest difference was playing four games on a weekend instead of three games. The bus travel was pretty similar."
KNIGHTS: You were not selected in the 2013 MLB draft, despite a very good junior season at Cal Poly. Was that disappointing, or did you intend to return to school anyway?
ARMENDARIZ: "It was pretty disappointing, but I am a man of faith who believed that God's plan was different for me. I ended up wanting to go back for my senior year and glad I did because I was able to finish more of my degree and felt more prepared on the baseball aspect.
KNIGHTS: Do you still hope to be taken in this year's draft and play pro ball?
ARMENDARIZ: "Yes, that is my plan as of right now. We finished regionals this weekend [and] I will continue hitting, throwing, and working out to stay in shape as the draft approaches."
KNIGHTS: How close are you to graduating? What will your degree be in?
ARMENDARIZ: "I have around two more quarters left until I graduate. My degree will be in Liberal Studies with a concentration in Sociology."
KNIGHTS: Other than winning the West Coast League championship, what was the best thing about your summer with the Knights?
ARMENDARIZ: "The best thing was the friendships I made. The Knights always pick great players to have on the team and they are also great people. I also loved staying with Peggy Duncan and Tom Loveday because they were very supportive and caring."
KNIGHTS: Do you still keep in touch with some of your Knights teammates, and with the Hurt family, which didn't host you but which hosts many Cal Poly players?
ARMENDARIZ: "Of course I keep in touch with those guys. We had such of fun summer together and we built up great relationships. I will always keep in touch with the Hurts. They are such a loving family who truly care about the guys they meet. They also send me texts throughout the year and I always appreciate them for the love and support."