Summer Collegiate Baseball is Less Than a Month Away.
May 12, 2011
University of Portland Sophomore Chris Johnson Eager to Pitch in Corvallis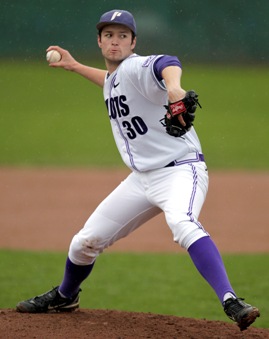 Portland pitcher Chris Johnson (pictured) didn't mince words when asked what Corvallis Knights fans could expect from him during the 2011 West Coast League baseball season.
"Every time I get the ball, I'll go out and give everything I have, throw strikes and hopefully get some wins," the sophomore right-hander said last Tuesday, speaking shortly before the Pilots played Oregon State at Goss Stadium.
"Kyle Kraus said [Knights baseball] is a really fun experience...great fans, great team, great coaches, just a great baseball environment. He said he had a lot of fun, and that I would probably have the same experience."
A 20-year-old business major from Edmonds, Washington, Johnson should be an integral part of the Knights' staff. He's 2-4 on the spring season, and has posted a 3.41 ERA over 11 appearances, with 46 strikeouts in 63.1 innings after an outstanding performance in a 1-0 loss to St. Mary's on May 8.
"I've been throwing well," the lanky 6-foot-4, 195-pounder said. "I've had some tough-luck losses here," like the 1-0 decision against the Gaels, "but I'm happy with how I'm throwing."
A Portland teammate and first-team All-WCL selection for the Knights in 2009 and 2010, Kraus gives Johnson a solid endorsement.
"He works quick, works off his fastball and has a good breaking ball," said Kraus, who this summer will be reunited with 2010 Knights' teammate Dean McArdle on the Hyannis Harbor Hawks in the Cape Cod League. "In the WCL, if you have a good fastball you can do a lot of good things."
Johnson's made a seamless transition to a starter in weekend West Coast Conference games from last year's role as a long reliever/spot starter.
"A lot of it is just finding your rhythm, how you prepare for games" physically and mentally, he said. "After the first couple starts you can settle into it. For me now, it's not really a big thing. It's my job.
"I've been a starter my whole career. I knew last year we had a lot of good pitchers on the weekend and I wouldn't start. But my goal coming into this year was to start and I'm happy with what I've done so far."
Johnson made a significant impact in 2010, his first year on The Bluff after a standout career at Meadowdale High in Edmonds, Washington. He went 3-3 with a 3.44 ERA over 15 appearances, and defeated Washington and Oregon in two of his three starts.
"That really gave me confidence that I could pitch at this level, I can start against these good teams," Johnson said. "Obviously I was a little nervous at first, going up against those Pac-10 teams, not knowing how my stuff would fare against them.
"But after those games, I could say 'Hey, I shouldn't be nervous. I have the ability to pitch effectively at this level.'"
Pilots' pitching coach Larry Casian said the Pilots' midweek games against Pacific-10 Conference opponents provide an excellent opportunity to test their younger pitchers against excellent opponents.
"If they're throwing well there, I'm assuming they can do ok against the WCC," Casian said.
Johnson lettered four times at Meadowdale, and was a second-team WESCO South all-star as a senior despite missing part of the season with a back injury. Meadowdale won the district and regional championships, and took fourth in the state 3A tournaments, his junior and senior seasons.
Johnson went 3-1 with a 1.59 ERA in nine games for the Humboldt Crabs of the now-defunct WCL Tri-State league last summer. This spring, he's polished his changeup, and learned to control his slider; Casian said a step up to tougher summer competition will help accelerate that development.
"I want to see him continue to get better with all his pitches, and just compete," Casian elaborated. "The (West Coast League) lets him compete at a high level, and that's what he must continue to do.
"He doesn't need to go into a patsy league and put up big numbers. I'd rather have him get knocked around a little bit so he learns how to pitch."
Johnson agreed, saying it's a chance to get better, while meeting new teammates, making new friends, and enjoying the summer.
"It's an opportunity to refine some things, get stronger, work on the things I need to work on, and above all have fun playing baseball," he said. "Just come out every day, put on a uniform, and have fun."
Chris is likely to get his first test with the Knights as the Corvallis probable opening day starting pitcher at Walla Walla. The Knights and Sweets get the WCL season started Friday, June 3 at Borleske Stadium.
NOTE: Corvallis announced yesterday it was cancelling its June 9 home game vs. Klamath Falls and moving it to July 28 as part of a doubleheader with the Gems at Goss Stadium. The move was made to avoid a possible conflict with a NCAA Super Regional practice day at Goss Stadium if Oregon State were to host a Super Regional in Corvallis.