Knights Open Title Defense June 1 at Walla Walla.
May 31, 2012
Corvallis Native Aaron Corwin of Texas Tech to Start Opener at Borleske Stadium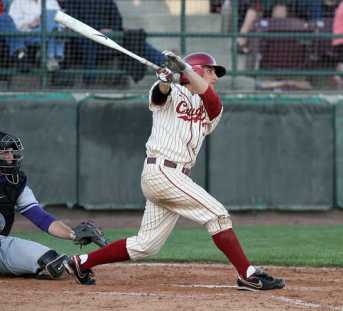 The Corvallis Knights, winners of five consecutive WCL West Division titles, set out to defend their 2011 West Coast League crown when they start the regular season in Walla Walla Friday, June 1.
The Knights swept the Sweets in last summer's championship series and capacity crowds are expected as Corvallis begins its 59-game slate.
Corvallis will open its 32-game, 31-date home schedule on Tuesday, June 5 against Klamath Falls.
This year's squad has fifth-year head coach Brooke Knight (160-64 overall, 137-55 WCL) excited about the prospects of another extraordinary season. The 2012 Knights are one of the deepest club's in recent memory and feature a strong pitching staff coupled with an impressive collection of hitters and defenders.
Connor Lambert returns for his second year as the Knights' pitching coach after leading last summer's staff to a West Coast League-best 2.46 ERA. Ex-Oregon State standout and Knights' alum Andy Jenkins will join the club as an assistant coach and will report following OSU's postseason. In addition to two returning coaches, 13 players return (including Nathan Blackham of Washington State, pictured) from a team that went 37-17 last season and won 27 of its final 33 games.
The Knights' pitching staff is anchored by returnees southpaw Dylan Stuart of UC Riverside (7-7, 4.00, 15 starts) and Chris Johnson of Portland (4-4, 3.08, 13 starts), both top of the rotation arms.
Stuart, a junior-to-be, started last year's WCL All-Star game in Corvallis and is ace material.
"Dylan is a guy we have really high expectations for," Knight said. "He was the 2011 Big West Freshman of the Year and followed that up with another strong spring this year."
Johnson, a junior, should be selected in this June's MLB draft. Depending on the round, Chris may sign a major-league contract. If not, he'll pitch for the Knights again this summer.
The other rotation spots are up for grabs. Last summer's closer, junior southpaw Mark Trentacosta (1-0, 2.91, 20 appearances) of UC Irvine, will transition into a starting role after becoming a mid-week starter late in the season for the Anteaters. Cal Poly freshman Bryan Granger (1-1, 3.60, 8 starts) is also likely to nail down a spot in the rotation.
"We're really excited to have Bryan," Knight said. "He's a kid who finished his strong this spring."
Knight is feeling good about his pitching staff. Texas Tech junior Aaron Corwin (1-0, 4.26, 11 appearances) will get the opening day nod; Riverside Community College freshman Blake Burrell (7-1, 1.83, 11 starts) posted a team-high three complete games for RCC; Oregon State freshman Carlos Rodriguez (0-0, 5.40, 7 appearances) was drafted in the 20th round by Atlanta last year; and Grand Canyon junior Jorge Perez (4-3, 2.48, 9 starts) hurled two complete game shutouts for the Antelopes.
Redlands junior Kyle Hart (4-4, 5.32, 14 appearances) and Pacific Lutheran junior Max Beatty both return. Beatty returns from off-season cancer treatment in good health and is eager to get back to his starting form. Hart will compete for starts and be counted on to deliver quality innings out of the bullpen.
Junior AJ Burke of Western Oregon, frosh southpaw Antonio Gonazles of UC Riverside, redshirt frosh Trevor Teykl of Texas and Oregon commit Carson Kelly round out the staff. Kelly may go in the first two rounds of the 2012 June MLB draft. If he does not sign, he will not only bolster the staff, but can play all infield and outfield positions.
Behind the dish, the Knights will feature legitimate pro prospects. Stanford commit Austin Barr and Oregon State freshman Nate Esposito, who was selected in the 46th round of the 2011 MLB draft by Oakland, will get the lion's share of catching work.
"Austin is a pro prospect that should get drafted, but we hope to see him in Corvallis this summer," Knight said. "Esposito is well-liked at Oregon State and is a talented player."
Reliable returner Dane Lund of Mt. Hood CC will backup the aforementioned catchers and push both youngsters for innings. The sophomore from Astoria, Oregon is an exceptional defensive catcher. Lund hit .259 for Corvallis last summer.
The infield features a bunch of players who can play numerous positions. Greg Mahle (.347, 35 RBI in 54 games), a freshman infielder at UC Santa Barbara, is penciled in as the starting first baseman after earning second team All-Big West honors this past spring for the Gauchos.
Up the middle, UC Irvine freshman Chris Rabago (.286 in 35 games) will compete for the starting second base job while a starting shortstop could emerge from a long-list of infielders. Returner Alex Foulon of Mt. Hood CC will battle for innings at short with Seattle's Nate Roberts and Oregon State commit Zach Green (and Carson Kelly if he does not sign). Roberts has seen previous action in the WCL, leading the league in RBI in 2010 when he was with the now-defunct Moses Lake Pirates and for a few games with the Knights last season before having his summer cut short due to injury.
"Shortstop is wide open," Knight said. "Roberts is a utility guy who is just a really mature player that can play three positions. And with Green, you have a heralded prospect that we're excited to see in his first collegiate action."
University of Portland freshman Caleb Whalen (.254, team-high 5 homers in 51 games), who comes from an athletic background, will hold down the fort at third base. His father, Shawn, played in the minor leagues for four years in the Padres organization.
"Whalen is an exciting young player," Knight said. "He had a great spring with the Pilots and we envision him starting at third and playing some short too."
The outfield is loaded with speedy, talented players. Cal Poly freshman Alex Michaels (.400, 26 hits in 33 games) is in line to be the starting left fielder after a fantastic spring with the Mustangs.
"We're super excited to have Alex," Knight said. "He can run, he can hit, he can do everything. He's a dynamic baseball player."
Michaels will be joined in the outfield by teammate Nick Torres (.275, 28 RBI in 56 games), who is currently the leading candidate to start in right field. Torres has a big arm and thunder in his bat, bashing 18 extra base hits in his freshman season for Cal Poly.
Returnee Connor Hofmann of Oregon (.254 in 53 games for the Regional hosting Ducks) will likely fill the starting center field position. Hofmann was selected in the 16th round of the 2010 draft by San Diego and played very well for the Knights late last summer.
"We're definitely thrilled to have Connor back," Knight said. "He can really run and has the potential to do some big things in this league."
Western Oregon junior Matt Nylen (.318, 43 runs in 46 games) and Washington State sophomore Nate Blackham (.265 in 42 games) each have their own distinct skill set and will compete for starts in the outfield. Nylen led the Knights with 15 stolen bases in 2011 while Blackham's Corvallis experience was limited due to a wrist injury.
"We're counting on both Matt and Nate to be big contributors this year," Knight said. "Both are great teammates and really gritty ballplayers. They're going to help us win ballgames."
All Knights games this summer will be broadcast on KEJO-AM 1240 and online at corvallisknights.com by the new Voice of the Knights, Kevin Burke. Catch the Knights' pregame show 15 minutes before the first pitch of every game. The first broadcast of the season starts at 6:50 pm Friday, June 1 live from Walla Walla in anticipation of a 7:05 pm first pitch.