Brian Brooks is Back; Returns to Team as Knights' PAA.
May 8, 2015
Corvallis Introduces First On-Field Host, Chelsea Leonard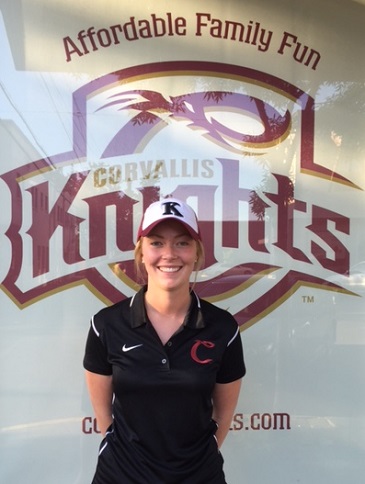 The Corvallis Knights continue to deliver on their commitment to enhancing the fan experience this upcoming season. The team is welcoming back Brian Brooks as public address announcer.
In addition, the Knights are introducing Chelsea Leonard (pictured) as the team's first season-long on-field host.
"We feel incredibly fortunate to have Brian back with us this season," said team president Dan Segel. "Brian's voice is synonymous with sports in this community, and his passion for baseball makes him one of the best announcers in the game."
Brooks served as public address announcer for the Knights from their inaugural season in 2007 through 2011, and he was named the team's Staff Member of the Year in 2009. He currently announces Oregon State Baseball games in addition to football, men's basketball, gymnastics and volleyball.
"I'm honored to be re-joining the Knights family," said Brooks. "I thoroughly enjoyed my five previous seasons behind the microphone, and I am excited to be coming back during such an exciting growth phase for the team."
Brooks and Leonard have worked closely together at Oregon State University sporting events, including gymnastics meets in addition to baseball and football games, and they are eager to collaborate this season with the Knights.
Leonard is a junior majoring in New Media Communications at Oregon State University. She has interned with the Oregon State Athletic Department for the past year. After graduation, she hopes to pursue a career in broadcasting.
"Chelsea brings a genuine energy to the on-field host role," said general manger Bre Miller. "Our fans are going to fall in love with Chelsea's enthusiasm, and her down-to-earth personality is going to really resonate with our fans."
Leonard is originally from Roseburg, Oregon, and she spends much of her free time in her equestrian pursuits. Chelsea will be attending community event with the team and is eager to start meeting and building relationships with Corvallis Knights fans.