Corvallis Hurler Jorge Perez to Start for West in WCL All-Star Game.
July 24, 2012
Coach Knight Tabs Frosh Right-Hander from Grand Canyon University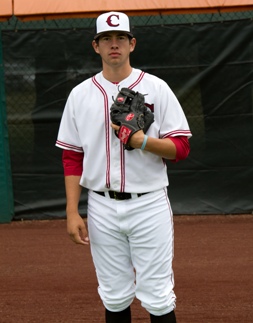 Corvallis Knights right-handed pitcher Jorge Perez of Grand Canyon University was picked by Corvallis skipper Brooke Knight to start for the West in the 2012 WCL All-Star Game at Borleske Stadium in Walla Walla, Washington on Tuesday, July 24th.
Jorge Perez has made six starts for the Knights this summer and has posted a 2-3 record and 2.80 ERA.
This past spring, Jorge went 3-3 and posted a 2.48 ERA for Grand Canyon.
For complete WCL All-Star Game rosters and stats, click here.
Seven Knights are scheduled to participate in the All-Star Game including Perez, southpaw Devon Barker of Centralia College, picher Rob Dittrick of Pacific, third baseman Caleb Whalen of Portland, outfielders Nate Blackham of Washington State and Connor Hofmann of Oregon, and Stanford frosh-to-be catcher Austin Barr.
Corvallis skipper Brooke Knight will manage the West and be assisted by Knights' pitching coach Connor Lambert.
The Knights representative in the WCL Home Run Derby will be Barr who leads Corvallis in home runs with three including two grand slams. In WCL action, Barr is hitting .301 with 2 homers and 15 RBIs.
Tonight's game starts at 7:35 pm. You can listen live on Sweets Radio. The voice of the Knights Kevin Burke will call the game with the voice of the Sweets Tristan Hobbes.