Knights and Elks Lead South.
July 28, 2014
Bend Comes to Goss for Pivotal WCL Series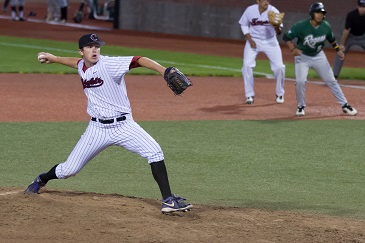 In summer collegiate baseball the players and coaches change with regularity, but one constant in the West Coast League (WCL) has been the rivalry between the Corvallis Knights and Bend Elks. The rivalry started in 2000 and has intensified since the two teams entered the West Coast Collegiate Baseball League (WCCBL) in 2005.
You can count on both franchises being competitive. They battle for the division title year-in and year-out. The Elks and Knights have met in the WCL playoffs in 2008, 2009, 2010 and 2011. A fifth meeting might be around the corner as both are playing their best ball late in the season. The rivals play six times at Goss Stadium over the final two weeks of the regular season (July 29-31, Aug. 5-7).
This season's pennant race is shaping up to be epic.
The Knights have won seven consecutive division titles since the WCCBL (now WCL) formed divisions in 2007. Corvallis will have to outdistance what is one of Bend's best teams to keep that streak alive.
Currently, Corvallis (27-15) holds a one-game lead over the Elks (26-16). The Knights have won 16 of its last 21 WCL games (and seven straight series) while Bend has won 24 of its last 33 games. Arguably, the Elks and Knights are the league's hottest clubs and they are scheduled to collide on Tuesday, July 29 at Goss Stadium.
When speaking of the few constants in summer collegiate baseball, like the Elks-Knights fierce rivalry, Corvallis's long-term success is absolutely rooted in constants, such as co-founders Joe & Dan Segel and team owner/sponsor Penny Knight, who have guided the team since its inception in 1990. And head coach Brooke Knight who has been at the helm since 2008 and won three WCL titles. Stability and leadership are strengths of the Knights and have kept the team playing at a championship level from the onset of the West Coast League.
Being consistently competitive is a franchise hallmark. With only 12 regular-season games left on the schedule, Corvallis is competing once again for a division title and another league championship. This year's squad has put itself in a position to control its own post-season destiny and take a shot at a repeat WCL title. Corvallis finishes the season with 6 home games vs. Bend and back-to-back weekend series at Klamath Falls (Aug. 1-3) and Medford (Aug. 8-10).
This past WCL series, starting pitcher Jackson Lockwood (pictured) of Portland earned his league-leading 7th win and southpaw Joey Wise, who recently committed to Gateway Community College, recorded his second save as Corvallis edged Victoria 5-3 at Sports Traders Diamond at Royal Athletic Park in the series opener on Friday night. Dalton Kelly of UC Santa Barbara and Marc Gallegos of Corban each homered to lead the offense. The Knights captured the second game of the series 8-5 in a hotly contested match that featured a few bench clearing incidents. Reliever Chris Haddeland of Linfield College kept the Knights in the game with four innings of scoreless relief. And Ted Hammond of Seattle registered a clutch save to give Haddeland and the Knights the win. But the sweep eluded Corvallis as the HarbourCats routed the Knights 19-10 in the series finale.
The team's pitching staff has been its stable for years. This season, the staff struggled early, but keeps improving under the guidance of fourth-year pitching coach Connor Lambert of Tacoma CC. The team ERA is 3.73, which is a franchise high. Corvallis has led the league in team ERA 7 out of 9 WCL seasons, never exceeding an ERA of 2.98. Under Lambert's watch, the Knights have posted the league's lowest ERA in 2011 (2.47), 2012 (2.80) and 2013 (2.81).
The Knights pitching depth has been tested by the loss of five projected starting pitchers right before the 2014 season. Two drops, returnees Stephen Nogosek of Oregon and Alex Nesbitt of Washington, delivered stellar performances in their teams final games, NCAA Regional losses at Vanderbilt and Ole Miss, respectively. Nogosek was shutdown to rest a sore/tired arm and Nesbitt was hurt in his longest and last stint of the season, his NCAA Regional appearance vs. the Rebels. Corvallis also lost hard-throwing southpaw Jordan Spencer of Oregon, Cal Poly starter Slater Lee and highly touted right-hander Mike Martin of UC Irvine; all late injuries that depleted the Knights' pitching staff.
Coach Lambert has leaned on Jackson Lockwood (6 starts, 7-2, 2.54), UC Riverside frosh Angel Landazuri (6 starts, 3-0, 2.67), Cal Poly freshman Justin Calomeni (5 starts, 1-2, 3.60), NCAA DIII Pitcher of the Year Chris Haddeland (7 starts, 4-3, 3.17), three-year Knights' vet Chris Bishop of Pacific Lutheran (5 starts, 2-2, 4.01), Concordia junior Harrison McGhee (6 starts, 0-2, 6.08) and PLU frosh Derrick Mahlum (5 starts, 2-1, 4.64) for the bulk of the Knights' starts.
The bullpen has been led by closer Brandon Choate of Washington (14 appearances, 8 saves, 2-0, 0.91), who has been the Knights' most outstanding pitcher to this point in the season. Arguably the team's most pleasant surprise has been southpaw Joey Wise from Grand Canyon. The 2013 MLB draft pick of the Cleveland Indians has not allowed a run, recorded two saves and been a strike thrower over 8 relief appearances. Concordia's Jason Snodgrass (3-1, 4.28), a late add to the roster, has pitched well this summer both in relief and as a starter. The rest of the club's relief corps has pitched well at times, with Austin Sodders of RCC, Merrick Patito of Chaffey, Sean Eberhardt of George Fox, Stephen White of Tacoma CC and Ted Hammond working lots of meaningful innings.
Offensively, this year's Knights' lineup has power. It's already set a team home run record, blasting 25 round trippers, 9 more than in 2013 and 2010. Leading the power surge are returnees Kevin Kline of Dixie State and Joe Duffin of Cypress College. Kline has hit 7 homers and Duffin 5 (6 counting a non-league homer). Both started hot, with Kline (.294, 11 doubles, 7 HR, 38 RBIs) being named the WCL's mid-season MVP by Best Coast Baseball and picked to represent Corvallis in the WCL All-Star Game and Duffin (.252, 11 doubles, 5 HR, 22 RBIs) selected to represent the Knights in the WCL All-Star Game Home Run Derby. But both have struggled lately with Kline not recording a single RBI over 8 WCL games until collecting 5 RBIs this past Sunday while going 5 for his last 41 at bats. Duffin is 2 for his last 19 with 8 strikeouts. The Knights will need both to heat up vs. the Elks.
Dalton Kelly, Grant Melker of San Diego, Marc Gallegos and Scott Quinlan of UC Santa Barbara have been the Knights' hottest hitters as of late. Kelly leads the team in hitting with a .353 batting average and has hit for power recording 4 doubles, 4 triples and 4 homers while collecting 25 RBIs. Melker recently strung together four consecutive three hit games, and added a fifth three-hit game this past Saturday at Victoria. He's hitting .331 with a team-leading 33 runs and league-leading 18 stolen bases. Gallegos is hitting .301 with 12 stolen bases, 2 homers and 24 RBIs. Quinlan is hitting .271 with 1 homer, 16 RBIs and 14 stolen bases.
The Knights' bench has been used often and played well when called on. Catcher Josh Latta of Tacoma CC (.222), outfielder Tim Rausch of Western Oregon (.237, 7 doubles, 2 HR, 14 RBI), third baseman/second baseman Kevin Farley of Portland (.200, 1 HR, 8 RBI), shortstop/second baseman Alec Smith of Cal Poly (.209) and outfielder Philip Leopold of Bellarmine (.182, 1 HR) are all excellent teammates and have contributed greatly to Corvallis's summer success.
The team's defense, another team stable, has been outstanding. Up-the-middle, catchers Logan Ice and Dane Lund of Oregon State; second baseman Marc Gallegos; shortstop Michael Lucarelli of Portland and Grant Melker have been exceptional.
Lucarelli is emerging as one of the Knights' top five shortstops in franchise history and is progressing as a hitter (.246, 8 doubles, 2 HR, 11 RBIs, 11 stolen bases). Luc currently leads the league in shortstop assists with 125; and Gallegos 110 assists leads the league for second basemen.
Michael was one of four starting DI shortstops on last summer's WCL title team, as he shared time with UC Irvine starter Chris Rabago, Cal Poly starter Peter Van Gansen and Mississippi State starter Seth Heck.
Dalton Kelly and Jackson Soto, a future Beaver, are playing very well at the corners. Kelly is a slick-fielding first baseman (maybe the league's best) and Soto is doing a super job at third base. And Kevin Kline has also played a great first base, committing no errors while registering 244 putouts.
Soto has hit well for his first introduction to college baseball batting .237 over 118 at bats with 9 doubles and 19 RBIs.
The team's outfield defensive is above average and continues to make game-changing plays. Melker leads the charge patrolling center field, while Tim Rausch has been the Knights' most consistent corner outfielder. Melker has collected a league-leading 7 assists and Rausch 4.
KNIGHT FACTS:
# Corvallis sports the league's top home record at 15-6
# The Knights are 4-0 in extra-inning games
# Corvallis has the top record in the WCL in one-run games at 12-3
# The Knights lead the league in shutouts with 5
# Dalton Kelly leads the league in triples with 4
# Joe Duffin leads the league in strikeouts with 38
# Dane Lund is second in the league in catcher's caught stealing percentage (.306)
# Jackson Lockwood, Chris Haddeland, Brandon Choate, Kevin Kline and Marc Gallegos were WCL All-Star Game selections. Unfortunately, the WCL All-Star Game on July 21st was rained out.