Twelve Knights Earn All-WCL Honors.
August 26, 2014
Marc Gallegos, Dalton Kelly and Jackson Lockwood Named to First Team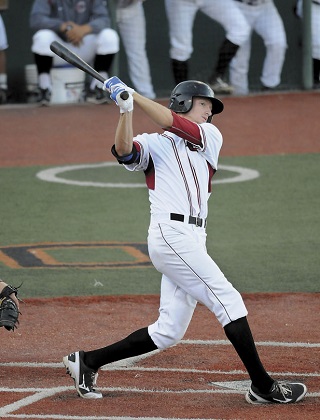 Twelve members of the Corvallis Knights earned West Coast League postseason honors for the 2014 season, WCL president Dennis Koho announced on Tuesday, August 26.
Second baseman Marc Gallegos (Corban); utility man Dalton Kelly (pictured, UC Santa Barbara) and starting pitcher Jackson Lockwood (Portland) were first-team all-WCL picks. Gallegos hit .309 with three homers and 31 RBIs; it was his second postseason honor, as he was second-team all-WCL in 2012. Kelly hit .336 with seven homers and 34 RBIs while playing first base and outfield; Lockwood was 8-2, 2.83 and set a team record with a WCL-best eight wins.
First baseman Kevin Kline (Dixie State); center fielder Grant Melker (San Diego); starting pitcher Angel Landazuri (UC Riverside) and reliever Brandon Choate (Washington) were second-team all-WCL selections.
Kline hit .300 with team-record eight homers and 45 RBIs. Melker hit .310 with 24 RBIs, set a league record with 29 steals and scored a league-best 41 runs. He and Kline were honorable-mention all-WCL in 2013. Landazuri was 4-0, 2.43; Choate was 0-0, 1.11 with nine saves; he was also a second-team all-WCL choice in 2013.
Pitcher Chris Haddeland (Linfield); catcher Logan Ice (Oregon State); shortstop Michael Lucarelli (Portland); catcher/outfielder Dane Lund (Oregon State) and third baseman Jackson Soto (West Albany HS/OSU in 2014-15) earned honorable mention honors.
Haddeland was 4-4, 3.28; Ice hit .274 with six RBIs; Lucarelli fielded brilliantly leading all WCL shortstops in assists and the senior-to-be hit .253 with three homers and 14 RBIs; Soto hit .245 with 23 RBIs and led all WCL third basemen in fielding percentage; and Lund, a first-team all-WCL pick in 2013, hit .239 with 11 stolen bases.
Yakima Valley outfielder Vince Fernandez (UC Riverside) was named the league's Most Valuable Player. The rising sophomore set single-season WCL marks in home runs (10) and RBIs (51).
Bells' ace Seth Martinez of Arizona State earned Pitcher of the Year honors. The rising sophomore went 6-0 with a league-low ERA of 2.07.
Bellingham's Jeff James of Washington was named Coach of the Year. Bellingham won the Jim Dietz Sportsmanship Award and Bellingham general manager Nick Caples was named Executive of the Year.
For a complete listing of the All-WCL teams, please click here.