Knights alum Tommy Hanson Rated #1 Atlanta Braves Prospect by Baseball America.
January 14, 2009
Hanson Featured on BA Cover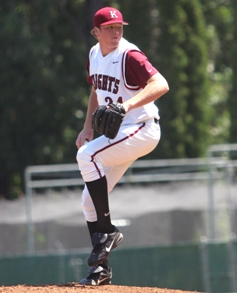 The ace of the 2005 Knights, Tommy Hanson (pictured), was not only named the Atlanta Braves #1 prospect by Baseball America, but the right-hander from Redlands, California was pictured on the cover of the latest issue of Baseball America.
At the MLB Winter Meetings in Las Vegas in December, Tommy was named the Arizona Fall League MVP. Hanson dominated the prestigious prospect league leading the AFL in wins (5), ERA (0.63) and strikeouts (49). The former Riverside (CA) CC hurler is the first pitcher to win the Joe Black Award honoring the AFL's Most Valuable Player.
Following Hanson's 2008 summer season, Tommy was named the Atlanta Braves Minor League Pitcher of the Year. He threw the Mississippi Braves first no-hitter and finished the season with a combined 11-5 record and 2.41 ERA with 163 strikeouts over 138 innings pitching for Myrtle Beach (A) and Mississippi (AA).
While pitching for the 2005 Aloha Knights, Tommy set the Knights' single-season record for ERA (0.92), strikeouts (116) and innings pitched (78). Tommy's breakout summer earned Hanson 2005 WCCBL Pitcher of the Year honors and a spot on Baseball America's 2005 College Summer All-America First-Team.
We recently caught up with Tommy online in his hometown of Redlands, California. He was kind enough to give the below interview.
corvallisknights.com: Congrats on being named Atlanta Braves Minor League Pitcher of the Year and AFL MVP. Where are you spending your off-season and are you getting any rest (or are you already preparing for spring training)?
Tommy Hanson: Thank you. I'm spending my off-season at my home in Redlands. I've been working out and I recently started throwing to get ready for the upcoming season.
corvallisknights.com: You pitched a no-hitter in AA, Mississippi's first ever no-no, vs. Birmingham this season and struck out 14 Barons. Robby Hudson of Birmingham, who is from your hometown and also an ex-RCC Tiger and ex-Aloha Knight, tells us he was not a strikeout victim on that historic night. Did you spare your SoCal buddy and do you remember pitching against Robby?
Tommy Hanson: Yeah I faced Robby that night. I actually hit him in the back his first at bat. It was obviously not on purpose since Robby is a buddy of mine. I came in the dugout after I hit him and I had to hear it from all my teammates. I called him after the game to tell him it was an accident.
corvallisknights.com: Do you keep in touch with many of your former college teammates?
Tommy Hanson: I talk to the coaches on occasion. I always talk to a good friend of mine Jason Rodriguez who was my roommate during that summer. I keep in touch with Wally Crancer and Garret Parcell.
corvallisknights.com: What is your fondest memory of the West Coast Collegiate Baseball League, what was your favorite town to visit (and why) and who was the toughest batter you faced that summer as an ace for the Aloha Knights?
Tommy Hanson: I had a great time that summer. It's really very similar to professional baseball. I would have to say my fondest memory was winning almost every night. We had a real good team. My favorite town was Kelowna. We had the most fun there and it was beautiful. Jonathan Hee of Wenatchee killed me that summer. Everytime I faced him it felt like he crushed the ball off me.
corvallisknights.com: You throw four pitches for strikes with great command, what one pitch are you working on the most and do you have a favorite pitch?
Tommy Hanson: I feel good with all of my pitches. I was recently working on my changeup in the AFL, but I feel like I can throw it when I need it now. If I had to pick my favorite to throw it would be my slider. The Braves don't like their young guys to throw them. It was my best pitch before I signed and half way through last season they let me throw it again.
corvallisknights.com: You pitched for the Knights following your freshman year and were named WCCBL Pitcher of the Year, briefly tell us about the experience and how you got your nickname "The Hibernator" with the Knights?
Tommy Hanson: It was awesome playing for the Knights. We had a really good team and the Knights took great care of all of us. I was nicknamed the hibernator because I love to sleep and I hate being tired. When I'm bored, that's how I pass my time.
corvallisknights.com: You pitched for legendary head coach Dennis Rogers at Riverside CC and your pitching coach with the Knights is a legend in the Northwest, Dale Stebbins. How did they further your development as a pitcher?
Tommy Hanson: Dennis Rogers is the smartest person I have ever met. Every time I listen to him speak he blows my mind. I've never met anybody like him. He has a lot to do with where I am at today. Dale Stebbins helped me a lot too. He stayed on us about our maintenance programs (lifting, shoulder exercises, towel drills, etc.). He also helped me a lot with pitch selection and how to set-up a hitter.
corvallisknights.com: In professional baseball, do you have a role model that you emulate (and why)?
Tommy Hanson: I don't. I just try to work as hard as I can, but be smart about it at the same time. When it comes to pitching I just try to pay attention as much as possible. You can learn so much just from watching the game closely on the days I don't pitch.
corvallisknights.com: What was it like rooming with Kevin Gunderson a couple summers ago in Myrtle Beach? If you guys make it to the big leagues with the Braves you will have to hit, have you ever hit before and who do you think would be a better hitter, you or Kevin?
Tommy Hanson: Kevin is a good guy. He'll be the first to tell you all the big league guys that are from Oregon or the Northwest or to tell you how Oregon State is doing in everything. Gundy is a big-time golfer so his swing might be a little better than mine. He is a reliever so he doesn't get the repetitions that I do. I had to hit last year and didn't do too well so I'm gonna go advantage Gundy.
corvallisknights.com: Thanks for your time, Tommy. Keep up the great work and we look forward to watching you pitch next season.
Senior writer Jonathan Mayo of MLB.com talks about Tommy Hanson on MLB.com Fantasy 411. Check out the below video.

Tommy Hanson is interviewed by MLB.com at the MLB Winter Meetings.