2009 West Coast League Pitcher of the Year Makes First Big League Start.
April 16, 2015
Former Knights' Ace Matt Andriese of Tampa Bay Earns Spot in Rays' Rotation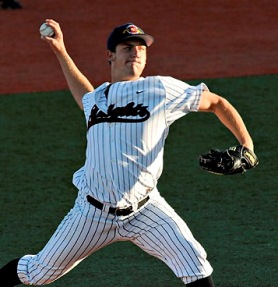 Former Corvallis Knights pitcher Matt Andriese (pictured pitching at Goss Stadium) got solid reviews following his
major-league debut
as a starter on Tuesday, April 14 at the Rogers Centre in Toronto.
A 25-year-old rookie with the Tampa Bay Rays who played for the Knights in 2009 following his freshman season at UC Riverside, Andriese pitched 3.2 innings at Toronto and allowed two runs on five hits.
He had two strikeouts, one walk, and threw 39 strikes in 72 pitches and got a no-decision in Tampa Bay's 3-2 victory.
Andriese became the 10th member of the Knights' organization to play in the major leagues on April 10 when he pitched a scoreless inning of relief at Miami in his MLB debut.
His Tuesday performance generated positive comments from media who cover the Rays. Wrote reporter Erik Hahmann, the team's correspondent for the SB Nation website:
"Most eyes were on Rays' starter Matt Andriese, making his Major League [starting] debut. He hadn't cracked the 80-pitch barrier during the spring, so expecting him to go deep into the game was a longshot. The 3.2 innings were about what you could hope from him in that situation.
"He worked out of a two-on, no-out jam in the second inning in part thanks to a beautiful sequence to Russell Martin. Three pitches, all strikes, with the last one coming in around Martin's eyes, which he flailed at. Andriese got into more trouble in the fourth after allowing three singles to the first four batters and was pulled shortly thereafter.
"He certainly has the stuff to pitch in the big leagues; his battle will be harnessing his control. The command is there. The pitches have the necessary life to them. Whether he ends up in a rotation someday, or, more likely, in a bullpen, he should have a decent career ahead of him if he can add a touch more control."
Andriese's promotion to the big leagues this spring capped a four-year climb through the San Diego and Tampa Bay minor-league organizations.
A third-round pick [112th overall] by the Padres in the 2011 draft following his junior year at UC Riverside, Andriese began his pro career later that summer with Eugene in the short-season Class A Northwest League.
After stops at Lake Elsinore (A California League) in 2012 and at San Antonio (AA Texas League) and Tucson (AAA Pacific Coast League) in the San Diego organization, he was traded to Tampa Bay on Jan. 22, 2014, as part of a seven-player deal. He spent 2014 at Durham, Tampa Bay's affiliate in the triple-A International league.
He was a Texas League all-star in 2013 and posted a 37-24 record in 94 minor-league appearances before making the Rays this season.
Andriese started 84 of his 94 minor-league games and he sees himself as a starter in the majors.
"I consider myself like a ground-ball guy," he told the Tampa Bay Times newspaper. "I like to envision myself as the kind of guy who goes out there and goes deep into games.
"[I'm] not going to overpower you with a lot of velocity and whatnot, kind of sinker/cutter, attack the strike zone, use all four pitches (also changeup and curveball), and throw them for strikes."
Rays' manager Kevin Cash said Andriese became more confident the more he pitched in spring training.
"He keeps the ball down really well," Cash said.
Matt had a standout 2009 summer for the Knights and led them to the West Coast League's Championship Series, where they lost to Wenatchee.
Andriese was 7-0 with a 1.38 ERA in nine games, with 44 strikeouts and only seven walks in 52 innings. He was the WCL Pitcher of the Year, a first-team all-WCL selection, and captured the Knights' Most Outstanding Pitcher award.
He was also ranked as the WCL's No. 2 pro prospect by Baseball America and Perfect Game. That year's No. 1 prospect was Knights' batterymate Andrew Susac, who made his major-league debut last summer with the San Francisco Giants.
Matt isn't the only member of the Andriese family with Knights' ties. His younger brother, David, was an outfielder on the 2010 and 2011 Knights. David also played at UC Riverside and is now in his second season in the Pittsburgh organization.
"David and I are best friends, we've always been close and always have done everything together," Matt said.