Knights Sign Four Oregon State Beavers.
October 25, 2015
Outfielders Kyle Nobach and Steven Kwan; Infielder Andy Atwood and Catcher Zak Taylor to Play in Corvallis in 2016.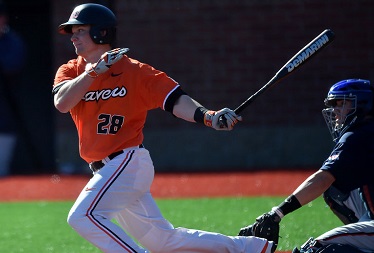 The Oregon State baseball program has long been a prime source of great talent for the Corvallis Knights.
Seventeen Knights with OSU ties have earned West Coast League postseason recognition since they moved to Goss Stadium from Gresham before the 2007 season; the most recent standout was freshman shortstop Nick Madrigal, a first-team all-WCL selection who was also the Knights 2015 MVP.
The upcoming season will be no different. The Beavers placed four players with the Knights for the 2016 season. They should all play key roles in the Knights quest for its ninth division title and fourth WCL championship over 10 summers in Corvallis.
The newest Knights/Beavers are:
* Junior outfielder Kyle Nobach (pictured) of Marysville High School in Marysville, Wash.
* Freshman infielder Andy Atwood of O'Dea High School in Everett, Wash.
* Freshman outfielder Steven Kwan of Fremont High School in Fremont, Calif.
* Freshman utility player Zak Taylor of Sherwood High School in Sherwood, Ore.
"These players all fit the Knights' profile," said OSU assistant coach Andy Jenkins, a former Aloha Knight player (2003-2004) and Corvallis Knight assistant coach (2012). "I have a pretty good feel for the type of player who can be successful with the Knights, having played and coached for them.
"They will be a great addition to the team, be outstanding teammates, play hard and help the Knights succeed."
Nobach transferred to OSU after playing at Everett Community College in 2014. He hit .317 (51-161) in 52 games, with two homers, 27 RBIs, eight steals in 10 attempts, and several spectacular catches.
Last summer, he played for the Kitsap BlueJackets in the WCL and hit .257 (46-179) in 44 games, with a homer and 32 RBIs.
"I'm really excited to stick around Corvallis, I just love it here," Nobach said. "There are no better facilities in the West Coast League.
"I played at Kitsap last year and they treated me great, had great people in their program but to be able to stay around [Corvallis], which is a second home when you play at Oregon State, is exciting.
"Any team in the WCL is great to play for; it's the closest thing you can get to college baseball. But the Knights look good. They have some ex-Beavers on the coaching staff, some good names and some good people."
Atwood helped O'Dea to a 3A State Championship as a junior, when he hit .437 with 18 RBIs and seven steals. He was all-state, all-metro and all-league during his high school career.
"He's a tremendous athlete," Jenkins said. "He came in as a middle infielder but we are working with him in the outfield. He can play a number of different positions and develop. I think he'll be a tremendous Knight."
Kwan played at Fremont High School in Freemont, Calif. He was all-league and was ranked as the No. 13 high school prospect in Northern California.
"Steven is a left-handed bat who can really bunt and really hit. He's a contact hitter who can cover tremendous territory in center field," Jenkins said. "He has a chance to play for us as a freshman.
"He kind of resembles Max Gordon," a three-year OSU center fielder (2011-13) who has joined the Knights as assistant coach for the 2016 season. "He will hit at the top of the lineup and provide some spark for those guys."
Taylor was ranked as Oregon's No. 10 prospect by Baseball Northwest and was a unanimous Three Rivers League all-star, and a first-team 6A all-state selection at Sherwood in 2015. He helped the Bowmen win the 2013 5A state title in their final season at that classification.
"He is tremendously versatile," Jenkins said. "He can play first base, he can catch, he can play third and has the potential to be a run-producer. And like the other guys, he works hard."
Four other 2016 Beavers have played with the Knights: Madrigal and infielders Christian Donahue and KJ Harrison were members of the 2015 club. Catcher Logan Ice played for the 2014 team, which took second in the WCL to Bellingham.
The aforementioned 17 Beavers to earn WCL postseason recognition are Madrigal (2015); Ice, Dane Lund and Jackson Soto (2014); Nate Esposito (2012); Ryan Gorton, Jace Fry And Ben Wetzler (2011); Dylan Jones and Matt Boyd (2010); Andrew Susac and Brent Warren (2009); Logan Lotti, Josh Osich and Taylor Starr (2008), and Blake Keitzman and Greg Peavey (2007).