University of Portland Sweeps Waves at Pepperdine.
April 26, 2010
Knights' Sophomore Right-Hander Kyle Kraus Improves Record to 8-0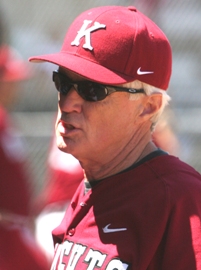 The University of Portland Pilots swept Pepperdine in a three-game series at the Waves beautiful diamond in Malibu, California to improve their overall record to 27-9 and WCC mark to 11-1.
The resurgent Pilots had only won once before at Pepperdine before pulling off their improbable sweep beating Pepperdine 8-6 on Friday, 8-4 on Saturday and 5-2 on Sunday.
Portland entered the national rankings at #26 in the latest Collegiate Baseball Newspaper poll.
First-year Pilots' assistant coach Dale Stebbins (pictured with the Knights) is very pleased with Knights' right-hander Kyle Kraus and former Corvallis catcher Rocky Gale.
"Both are great competitors and have come through all year for the Pilots," said Stebbins. "They are great people off the field too."
Kraus improved his record to 8-0 by earning the win on Saturday. The sophomore from West Linn, Oregon tossed 8 2/3 innings and allowed 9 hits and 4 runs while walking none and striking out 6.
Kraus leads the Pilots in wins with 8 and innings pitched with 71, and has posted a 3.93 ERA over 10 starts.
Kyle earned first-team All-WCL honors last summer and is returning to Corvallis for a second season with the team.
"I love the way (Kyle) competes," said former Knights' skipper Dale Stebbins. "When he goes to the mound you know you are going to get a quality outing."
Catcher Rocky Gale is providing outstanding senior leadership and is handling the staff like a pro, not to mention Rocky is swinging a hot bat as the Salem, Oregon product is hitting .322.
Gale caught for the Knights in 2007 and 2009.
"Rocky is a smart player and he takes advantage of anything he can," said coach Stebbins. "He has great hands behind the plate and is a great asset to our pitching staff."
The Pilots are eagerly anticipating a home series with first place University of San Diego (9-0) May 7-9 at Joe Etzel Field.
"I'm having fun! Chris Sperry is great to work for, Tucker Brack is Mr. Energy, Coach Casian is getting the most out of our pitching staff and the attitude of the team is outstanding and everybody is supporting everybody," said Stebbins.
When asked what the Pilots strengths were Stebbins noted, "like all good teams, we are very strong up the middle and our pitching has been solid."
Stebbins managed the 2005 Knights to a fourth place finish at the 71st NBC World Series in Wichita, Kansas and coached three future big leaguers in Tommy Hanson of Atlanta, Bud Norris of Houston and Marc Rzepczynski with Toronto while he was with the Knights.
An extraordinary instructor of pitching, Stebbins was the team's pitching coach in 2003 and 2004 and won a summer national title as part of the '04 Knights that won the 70th NBC World Series.
Dale also won championships as the head baseball coach at Mt. Hood Community College in Gresham, Oregon.
His winning attitude has definitely helped the Pilots reach new heights and set exciting milestones.