Blackham Back; Learning Business Side of Knights.
March 9, 2015
Alum Joins Front Office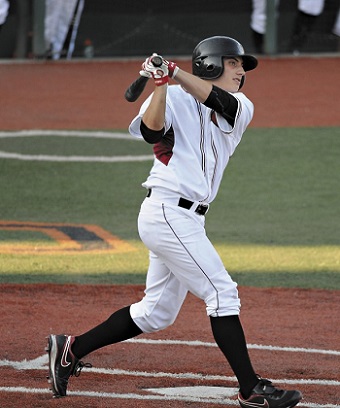 Former star outfielder Nate Blackham of Washington State has exchanged his No. 25 jersey for business attire and is getting a completely different view of the Corvallis Knights organization in his new internship position with the club.
Now 22 years old, the soon-to-be WSU graduate is interning with the team this spring to complete the requirements for a Bachelor of Arts degree in Sports Management. He'll graduate this May and then return to Corvallis to serve as the Knights' Director of Facilities and the team's Clubhouse Manager for the summer.
His objective is simple: To learn as much as possible and get practical on-the-job experience in running every aspect of a sports franchise from president Dan Segel, general manager Bre Miller and senior vice-president of operations Holly Jones.
"My goal is to be a valuable utility player for the Knights!" said Blackham, who played for the Knights from 2011-13 while playing for the Cougars. "I want to be attentive to every single angle of the business. "I want to be versatile, sharpening what I find could be my strengths in this business and improving on what could be my weaknesses. By the end of the summer I will have hopefully expanded my network, which is always important."
Nate played three seasons with the Knights, bookending his career with 2011 and 2013 West Coast League championships. A versatile, speedy center fielder and left fielder, he hit .263 (63-239) in 80 career games, with 23 RBIs, 26 stolen bases and many memorable, acrobatic defensive plays.
Even though he had two years of eligibility remaining, he retired from baseball after the 2013 summer to concentrate on academics. He also worked at the WSU Student Recreation Center.
Blackham's desire to work in the athletic industry was fostered during his youth in the Spokane suburb of Mead, where he was a standout multi-sport athlete at Mt. Spokane High School. He lettered in baseball and football, and was a second-team Greater Spokane League all-star as a sophomore year and a first-team selection his junior and senior years.
"I would eat, sleep and breathe baseball, football and basketball growing up, so I knew I wanted to work in something that involved sports," he said. "After receiving my baseball scholarship at WSU I wanted to figure out what program would fit me.
"Once I learned that WSU had a highly-noted reputation for Sport Management, I decided to pursue it."
He doesn't have a specific job in mind at the moment.
"That's why I believe versatility is important, so that I can be a strong component for all different types of organizations," he said. "But I definitely enjoy college and professional baseball. It's always great to be as close to the game as possible after playing for so long.
"Professional staff for university recreation is something I have thought about before as well, after being employed at the Student Recreation Center this past year. I want to learn as much as I can to open as many doors as I can."
His familiarity with the Knights' front office and the team in general has helped him immediately transition from the playing side of the organization to the management side.
"The Knights family is one of a kind, once you are a Knight you remain one for life," he said. "Every time you come back to Corvallis you remember that feeling of family within the first five seconds.
"This allows for a smooth transition, to jump right into the learning process. Having already built relationships with Bre and Dan makes my time in the office that much more enjoyable. And after getting to know Holly I already know that I made the right choice coming back for my internship to finish my degree."
Former WSU/Knights teammate JK Dykes, now in private industry in the Seattle area, filled the same role in 2012 while completing his degree requirements and has been a mentor of sorts to his younger contemporary.
"One thing JK told me was to always find something to improve on," Blackham said. "Just like in baseball, there is always something you can improve on or practice. Approach it like a game. JK was always the energy guy in the dugout so I always remember that about him."
Wherever he winds up, Blackham's memories of his summers with the Knights are something he'll cherish for the rest of his life.
"The great host families make you want to take out the word 'host' in front of it. The Noonans and Taylors were and always have been amazing to me," he said. "The fans made you feel like a big-leaguer, and I had the pleasure of learning life and baseball lessons from great coaches (Brooke Knight, Billy Clontz. Conner Lambert, Andy Jenkins).
"Mostly I'll never forget the feeling of hearing my name being called before the National Anthem and running out to the outfield every night after the Knights opening video, running out and knowing there are little kids looking at you like you're larger than life. In reality we are just college kids having just as much fun as the little kids out there.
"And of course I miss the fellas from all of the years I played. Some of those relationships come from such a sweet and unique time in life and many lifelong friendships were built."