Kevin Burke of Virigina Tech Named Voice of the Knights.
December 7, 2011
Corvallis Introduces New Play-by-Play Broadcaster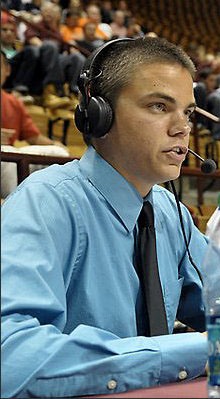 Kevin Burke plans to deliver far more than the count, score, inning and other basics during his radio broadcasts of Corvallis Knights games this summer.
"When I call a game, I try to paint a picture, not just tell you what's happening," said Burke, a senior at Virginia Tech who this week was hired as the Knights' play-by-play voice for the 2012 season.
"Any fan can come up into a booth and read off stats and say whether the pitch was a ball or strike. It takes effort to find out that little nugget about a player, or to make things more vivid through words. That's what I strive for in each broadcast.
"I also try to make sure I'm having fun because it's baseball and if you're not having fun it's not worth doing. Baseball has such a unique history and it continues to grow by the day. I'm glad that I can be a part of that growing history."
The 21-year-old Burke will join the Knights in late May, shortly after he graduates from Virginia Tech with a BA in communications (electric print and journalism option) and a minor in professional writing.
He will be the tea'ms third announcer since it relocated to Corvallis from Gresham for the 2007 season. Oregon State broadcaster Mike Parker, who is unable to do games this summer, handled most of the games from 2007-11. He shared the job with Jason Schwartz in 2010. Schwartz has subsequently broadcast with the Tri-City Dust Devils and the University of Southern California, his alma mater, since leaving the Knights.
Corvallis Knights president Dan Segel said he was confident Burke would uphold the tradition of professionalism established by his predecessors.
"Kevin was recommended by several former West Coast League broadcasters and his resume and examples of his work made an immediate positive impression with us," Segel said. "We became even more impressed with Kevin's drive, enthusiasm and commitment during the interview process.
"We are excited to add him to the Knights and look forward to his arrival in Corvallis."
Kevin grew up in Leesburg, Va., a city of 30,000 about 40 miles northwest of Washington, D.C. in Loudoun County. He became interested in sports broadcasting as a 10-year-old, when his brother's youth football team needed a PA announcer for its games.
"I gave it a shot, and fell in love with it immediately," Burke said. "I ended up going to sports broadcasting camps and that was really when I decided I wanted to pursue this as a career.
"The idea of being able to enjoy something you do while also attending sporting events is an absolute thrill."
The Washington Nationals were still in Montreal and Leesburg did not have minor-league baseball when Burke was young. So he listened to the legendary Jon Miller, the longtime voice of the Baltimore Orioles, and Washington Redskins announcer Frank Herzog.
He also enjoyed George Michael of the George Michael Sports Machine. Michael was the sports anchor at WRC-TV from 1980 to 2007 and was one of the most popular media personalities in the Washington, D.C. area while Burke was growing up.
However, his family has long-standing ties to Virginia Tech and he was most influenced by Bill Roth, the football/basketball voice of Hokies since 1987.
"Being a Tech fan growing up, Bill Roth was the iconic voice behind the rise of the program and I loved listening to him call games," Burke said. "He's the person I try to emulate the most when I'm broadcasting a game.
"I enjoy listening to guys who call multiple sports, like Sean McDonough, Mike Tirico and Dan Shulman of ESPN. They can make each broadcast unique and that takes a lot of skill and preparation.
"The way they're able to control their broadcasts while also making it fun and informative for viewers is astounding. They're truly great examples for any young broadcaster to look up to."
Burke already has considerable experience in many aspects of affiliated baseball, radio, and in public address.
He's done play-by-play for Virginia Tech baseball and other sports. Last summer he worked in broadcast, business and promotional capacities for the Salem (Va.) Red Sox, Boston's affiliate in the Class A Carolina League. In 2009 he was the on-field emcee for the Frederick Keys, Baltimore's Carolina League affiliate in that Maryland city.
Burke worked at several small Virginia radio stations as on-air talent and in production as a high school student. He's been a PA announcer at Virginia Tech and Heritage High; writes for "The Key Play," a sports blog about Virginia tech athletics, and has officiated youth, high school and adult baseball and basketball.
He also plays in the drum line in the Virginia Tech marching band. He and the rest of the Marching Virginians will accompany the Hokies to New Orleans later this month for the upcoming Sugar Bowl game against Michigan.
The Knights begin the defense of their 2011 WCL crown on June 1 at Borleske Stadium in Walla Walla with a rematch against the host Sweets, who the Knights swept in last year's finals. The Knights' home opener is June 5 against Klamath Falls.
"I can't wait to get out to Corvallis and provide a championship-level broadcast to your fans about their championship-level team," Burke said. "June 1 is just around the corner. Go Knights!"
AT A GLANCE
WHO: Kevin Burke
WHAT: New Knights' play-by-play broadcaster
HOMETOWN: Leesburg, Va.
AGE: 21; turns 22 in February
EDUCATION: Senior at Virginia Tech; will graduate in May with a BA in communication (electric print and journalism option) and a minor in professional writing. Graduated from Heritage High School in Leesburg in 2008.
EXPERIENCE: IMG Virginia Tech Sports Network (2010-present); Salem (Va.) Red Sox (2010); Frederick (Md.) Keys (2009); Virginia Tech athletics (2008-11); TCC Sports, Sterling, Va. (2006-07); WAGE radio, Leesburg (2004-07).
QUOTE: "When I call a game, I try to paint a picture of the game, not just tell you what's happening. It takes effort to find out that little nugget about a player or make things more vivid through words. That's what I strive for in each broadcast."