Future Knight Andrew Moore Off to Great Start With Beavers.
February 28, 2013
Freshman Pitcher from North Eugene has Earned Spot in OSU Starting Rotation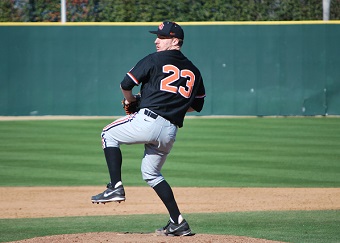 If Andrew Moore (pictured against San Diego State) pitches as well for the Corvallis Knights as he has for Oregon State, it could be a very long summer for opposing West Coast League hitters.
The 18-year old from North Eugene High School has taken the Pacific-12 Conference by storm this February. He went 2-0 with a microscopic 0.66 ERA in two starts, with eight strikeouts in 13.2 innings, and earned a spot in the starting rotation for this weekend's home-opening series against Bryant University.
"It's just baseball, the same thing I've done my whole life," the 18-year-old right-hander said after a recent practice. "You just have to make pitches, and if you make pitches, you'll get outs.
"It's trusting your stuff. I believed in my stuff, tried to make pitches in big situations, the defense went to work, and it all worked out."
Moore was one of the most decorated pitchers in state history at North Eugene. He was Oregon's 5A Player of the Year in 2012, was the co-5A Pitcher of the Year in 2011 and 2010, and was a three-time all-state and four-time all-league selection.
He was 9-1 as a high school senior, with a 0.76 ERA and 125 strikeouts in 72.2 innings. He also hit .400, with a homer and 21 RBIs as a shortstop when not pitching, and was the South's Most Valuable Pitcher in the Knights-run Oregon All-Star Series last June.
In four years at North Eugene, Andrew was 32-10 overall, with 441 strikeouts in 300 innings.
Still, even the most talented high school pitchers can struggle making the jump to college baseball, especially in the Pac-12, one of the country's premier conferences. So, Moore re-invented himself somewhat in fall ball to facilitate that adjustment.
"I've developed my changeup," he said. "I threw it maybe five times my whole high school career, but I threw it five times within a few batters against UC Riverside and San Diego State" in his OSU debuts.
"That's a great setup pitch. With lefties I can get a quick out, can set things up for a high fastball, that's a big pitch for me. I've also changed my arm slot to a little more over the top, which allows me to throw a two-seam and one-seam fastball.
"I'm throwing my slider a lot more now. It's pitch placement and sequences, little stuff like that."
OSU sophomore catcher Nate Esposito, a 2012 Knight, said he thinks Moore has what it takes to succeed in the Pac-12 and the WCL.
"He's got a dream demeanor, he's dialed 24-7 and you can tell he's a real competitive guy," Esposito said. "He has a plan when he pitches, he knows exactly what he wants to do, and gets it done.
"I think he'll do a great job for the Knights."
Moore is one of two OSU freshmen who will play for the Knights this summer. He'll be joined by Gabe Clark, an infielder from Riverside, Calif.
"I've already been to a few Knights games and I loved the atmosphere," he said. "Corvallis supports Oregon State and the Knights, they love their baseball. It's definitely a cool place to play and having one of the best facilities in the nation helps.
"The coaches are good, they're really into it. It's not just 'It's summer ball, go out and play.' They are trying to get you better and help you develop. I'm excited about that."
Moore already knows Clark; Columbia sophomore outfielder Gus Clark of South Eugene High; Oregon freshman pitcher Jared Priestley of Roseburg, and several other projected 2013 Knights. That will ease the adjustment to his next new team.
"When I was 9 or 10 I played up and Gus and I played on an all-star team together," Moore said. "He played on the A team and I played on the B team, but we practiced together.
"I'm good buddies with Jared; I've known him since I was 10 or 11. We've been texting and we're pretty excited. We've been trying to get on the same team for a while."