Six Knights Alums Make MLB Opening Day Rosters.
April 4, 2016
Matt Duffy of Giants Laces Two-Run Single in First 2016 At Bat; Blasts Two-Run Homer in Opener at Milwaukee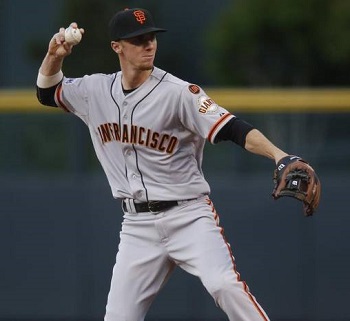 Six former Knights made 2016 Major League Baseball Opening Day rosters including San Francisco Giants third baseman Matt Duffy (pictured) and reliever Josh Osich.
Duffy (Long Beach State, 2010) looks to repeat his fantastic rookie campaign, where he was the NL Rookie of the Year runner-up, with the Giants. He was San Francisco's Opening Day starting third baseman and stroked a two-run single in his first 2016 at bat and two-run homer in his third plate appearance.
Southpaw Josh Osich joins Duffy on the Giants Opening Day roster. The former Oregon State and Knights star (2008) looks to fill the shoes of lefty reliever Jeremy Affeldt who retired this off-season.
Bud Norris (Cal Poly, 2005) starts this season with the Atlanta Braves, his fourth big league club. Norris starred with the Houston Astros before getting traded to Baltimore in 2013. He went 15-8 in his first full season with the Orioles and pitched well in the 2014 post-season. He finished the 2015 season with the San Diego Padres.
Chris Stewart (Riverside CC, 2001) returns for his third season with the Pittsburgh Pirates. Chris has excelled defensively for the Bucs and hit .294 in 2014 and .289 in 2015; and has become Gerrit Cole's preferred choice at catcher.
Lefty specialist Marc Rzepczynski (UC Riverside, 2006) begins his first season with the Oakland A's, his eighth season in the big leagues. Zep earned a World Series ring with the 2011 St. Louis Cardinals and has pitched with the Blue Jays, Cards, Indians and Padres.
Left-hander Tyler Anderson (Oregon) of the Colorado Rockies, who pitched for Corvallis in 2009, will start the 2016 season on the 15-day disabled list.