OSU Pitching Coach Nate Yeskie and West Coast League President Dennis Koho Headline Hot Stove Night.
February 6, 2014
Corvallis Knights Skipper Brooke Knight Returns from Australia; Makes Special Appearance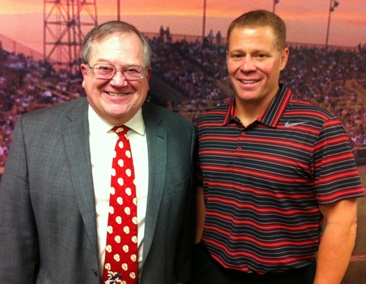 West Coast League president Dennis Koho (pictured with 2013 WCL Coach of the Year Brooke Knight) and Oregon State pitching coach Nate Yeskie informed and entertained Corvallis Knights fans on Feb. 5th at the club's third annual Hot Stove Night event in the Omaha Room at Goss Stadium.
Entering his first full season as WCL president, Koho spoke of his lifelong love affair with baseball, first piqued by watching his older brother, Bill, star at Bend High School.
He also spoke about the WCL's newest team, the Yakima Valley Pippins; about the possibility of further expansion; about seeking some sort of sponsorship agreement with Major League Baseball; about the new playoff format, and how the league's re-alignment into three, four-team divisions will foster more regional rivalries and reduce travel costs.
"Corvallis and Bend have a great rivalry," Koho said. "I can see Yakima and Wenatchee developing a good rivalry," since those cities are Central Washington neighbors.
Koho added that having an even number of teams will make scheduling easier, although it's still a challenge to please all 12 teams. Making sure every team visits every other division at least once every three years will be another priority, he added.
"We're looking forward to a great season," he said.
Yeskie spoke on the Beavers' upcoming season, on what coach Pat Casey's nationally-ranked program looks for in a player, and how Northwest players often make good recruits because they often have so much upside because they haven't been used up by playing year-round.
"It's like when you walk into a tire store," he said. "Northwest recruits still have all the tread in their tires" because they haven't been burned out by continually playing 12 straight months, year after year.
He also said he has great trust in the Knights' coaching staff and is comfortable placing his best young arms with Corvallis. Beaver aces Ben Wetzler and Jace Fry, top relievers Brandon Jackson and Scott Schultz and prize freshman Kevin Flemer all played for the Knights in the past three seasons.
"We know they are going to be used right by the Knights," Yeskie said.
Nate also received a special Nike gift pack for his 18-month-old daughter, Avery, from Knights' president Dan Segel as a thank you for appearing and in recognition of his 2013 Collegiate Baseball Pitching Coach of the Year honor.
Segel, general manager Bre Kerkvliet and head coach Brooke Knight, who recently returned to the United States following a two-month stint coaching the Adelaide Bite in the Australian Baseball League, also previewed the upcoming season, which starts June 4th with a Science, Engineering & Art Day nonleague game against the Portland Sea Dogs.
"Many thanks to Dennis and Nate for taking time out of their busy schedules to give the West Coast League's best fans a better look at the West Coast League and at the Beavers," Segel said.
"Hot Stove Night has become an annual tradition that we and our fans look forward to with anticipation," Segel said. "It's a wonderful night and an added value for our hard core Knights' fans."