Eight Knights Make PG Crosschecker's Top 40 WCL Prospects List.
September 11, 2013
Pitcher Jorge Perez of Grand Canyon Rated #2 and Pitcher Dylan Hecht of UCSB #3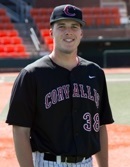 Perfect Game Crosschecker released its top 40 WCL prospects list on Wednesday, September 11, which included eight Corvallis Knights.
Pitcher Jorge Perez of Grand Canyon was rated the league's #2 prospect; closer Dylan Hecht (pictured) of UC Santa Barbara was rated #3 and center fielder Blake Drake of Concordia was #8.
Pitcher Andrew Naderer of Grand Canyon was #11; third baseman Cody Lenahan of Portland was #14; pitcher Stephen Nogosek of Woodcreek (Calif.) HS and Oregon was #16; pitcher Alex Nesbitt of Washington was #23 and catcher/shortstop Chris Rabago of UC Irvine was #25.
Walla Walla's starting pitcher Cody Poteet of UCLA was rated the #1 prospect in the West Coast League. For a complete list of WCL prospects, click here.
Perez and Drake were also recently named summer collegiate baseball All-Americans by Perfect Game Crosschecker. Perez (2), Drake (3) and Hecht (8) were also rated as top ten WCL pro prospects by Baseball America.