Knights Look to Contend Again in 2015.
May 31, 2015
Corvallis Hopes to Celebrate 25th Anniversary Season with WCL Title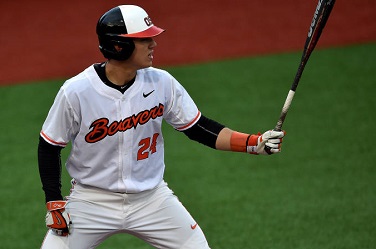 Coach Knight expects Knights to contend
The Corvallis Knights expect to begin their "Golden Era" on the diamond with another West Coast League contender that should challenge for the team's ninth consecutive division title.
The Knights open their ninth season in Corvallis at 10:30 a.m. Wednesday, June 3rd with a nonleague game against the Portland Sea Dogs at PEAK Internet Science, Engineering and Arts Day at Goss Stadium, presented by the Oregon State colleges of Science and Engineering.
Returnee Merrick Patito of Chaffey College is the Knights' scheduled opening day starting pitcher. He was 2-3, 6.00 in 14 games at Chaffey this spring, with 44 strikeouts in 42 innings.
Wednesday's contest is the first of 33 home games for the Knights, who fell 2-1 to Bellingham in last year's West Coast League Championship Series after winning the South Division regular-season title and then eliminating Bend in the divisional playoffs.
Patito is one of four returnees from the 2014 club, the seventh in the past eight seasons to advance to the WCL Championship Series. He was 2-2, 5.70 in 19 games with the Knights in 2014, with two saves.
Also back are:
* First baseman/outfielder Dalton Kelly of UC Santa Barbara, a first-team all-WCL selection in 2014 after hitting a team-best .336 in league play; with seven homers and 34 RBIs.
* Third baseman Jackson Soto of Oregon State, who hit a solid .245, with 23 RBIs, following his senior season at West Albany High School.
* Pitcher Harrison McGhee of Concordia, who went 0-2, 5.40 in 14 games as a starter/reliever in 2014.
Also returning, after a one-year absence, are pitchers Jorge Perez of Grand Canyon and Alex Nesbitt of Washington, staff mainstays on the 2013 WCL championship club.
"Our returnees give us a solid core of veteran leadership and we expect them to show the newcomers how to play the Knights' way," said skipper Brooke Knight, entering his eighth season at the helm.
"Our previous teams have established a high standard and we expect this year's club to live up to those standards."
Another cornerstone should be the strongest crop of OSU players since current pros and Pac-12 champions Ben Wetzler, Ryan Gorton, Scott Schultz and Jace Fry helped lead the Knights to the 2011 WCL title.
Complementing Soto are slugging freshman first baseman/catcher KJ Harrison (pictured), the Pac-12 Freshman of the Year and first-team all-Pac-12 selection; fleet outfielder Elliott Cary, the 2014 Oregon 6A Player of the Year at Clackamas High School; and slick-fielding Beaver starting second baseman Christian Donahue.
"That's four quality position players from one school," Knight said. "Coach Yeskie really took great care of us."
Another potential standout with Pac-12 ties is UC Irvine freshman second baseman Cole Kreuter. The son of former major leaguer/USC head coach Chad Kreuter, he hit .300 in 39 games for the Anteaters, with 15 RBIs.
Cole's UCI teammate Cameron Bishop is expected to shine in the field and on the mound for Corvallis. He was 2-0, 4.55 in 18 games, with two saves and 29 strikeouts in 31.2 innings as a pitcher and he hit .240 (31-129) in 50 games, with four homers and 30 RBIs for the 'Eaters.
"Bishop is a middle-of-the-order bat who will get at bats as a designated hitter, first baseman and right fielder this summer," said Knight.
Another stalwart should be shortstop Clay Fisher, a starter at #13-ranked UC Santa Barbara. Fisher hit .240 over 179 at bats with 8 doubles and 19 RBI; and collected 157 assists while posting a .965 fielding percentage.
"Our fans are going to really enjoy watching the middle infield trio of Fisher, Donahue and Kreuter play the game," said Knights' president Dan Segel. "All of these kids have exceptional baseball IQs and will play great defense."
Catching should again be a strength with the athletic Harrison; University of San Francisco's Ryan Matranga, who earned all-WCL honors last summer at Kitsap; and frosh Andy Cosgrove of Washington handling the team's backstop duties.
The corner infield positions will be manned by the left-handed hitting Soto, who led all WCL third baseman in fielding percentage last season; and Michael Farris, who redshirted this past spring at UC Riverside after transferring from Golden West College, at third base.
Slick-fielding Dalton Kelly, who hit .261 with 3 homers and 19 RBIs for the Gauchos in 2015; OSU starting first baseman and Pac-12 RBI leader KJ Harrison; and Bishop will anchor the Knights' infield at first base.
The Corvallis outfield will feature junior Jes Staples, who earned all-conference honors at Bellarmine University this past spring; rising frosh Elliott Cary of OSU and freshman Joshua George of Cal Poly. All three are left-handed hitters. UC Santa Barbara frosh-to be Michael McAdoo, Jr., a top high school prospect, is the team's lone right-handed hitting outfielder. Cary is likely to roam center field for Corvallis.
Like last summer, the Knights' roster features above average team speed, and some power.
"I like our team speed on paper. We'll be aggressive on the basepaths," said Knight, whose 2013 and 2014 teams led the WCL in steals. "We also have some guys with a little pop in their bats so we won't be lacking for punch."
Connor Lambert returns for his fifth year as pitching coach and fellow Washington State Cougar Ryan Walker - the probable opening-night starter at Bend on Friday - could emerge as the staff ace. Walker was 1-1, 2.72 in 25 games, with 50 strikeouts in 56.1 innings for WSU as a frosh.
JC pitchers Patito, Dakody Clemmer of Central Arizona, Nick Duron of Clark College, Austin Kelly of Linn-Benton CC and Chase Kaplan of Western Nevada should see plenty of work, as should Portland junior lefty Cole Doherty and a pair of Big West Conference right-handers, UC Santa Barbara's Chris Clements and Cal Poly's Slater Lee.
All of the above will vie for starts; with Walker, Bishop, Nesbitt and Clements projected to anchor the rotation. Clements, a freshman, went 3-0 with a 2.16 ERA for the Gauchos.
Three key pitchers are returning from arm trouble this summer after redshirting this past spring including returnee Jorge Perez who has been a #1 at Grand Canyon and also a closer with the Knights. UC Irvine's Michael Martin and Concordia's McGhee are also looking forward to getting back on track this June and working their way towards starts later in the season.
The bullpen will be bolstered by Cal Poly frosh-to be Craig Colen, redshirt junior Gary Steindorf of Western Oregon and hard throwing reliever Branden Cutsforth of Treasure Valley CC.
"We lost a number of quality arms for one reason or another before the season," Knight said. "But coach Lambert always does a great job getting our guys ready and we anticipate we'll again have one of the top pitching staffs in the WCL."
The Knights open the WCL season at Bend this Friday-Sunday. Their WCL home opening series is June 9-11 against Bellingham in a rematch of last year's Championship Series.
Tickets for Big League Chew Opening Night presented by AmeriTitle on Tuesday, June 9th at Goss Stadium are going fast. Get yours now!