Former Knights' Ace Josh Osich Makes Big League Debut for San Francisco.
July 4, 2015
Lefty Pitches Scoreless Inning of Relief at Washington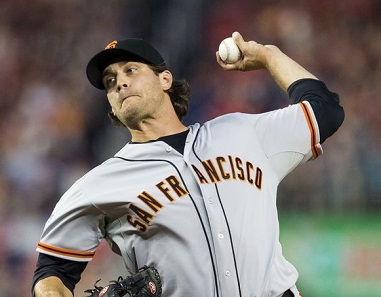 Josh Osich didn't disappoint when the call he'd waited half his life to receive finally came.
The former Corvallis pitcher, a mainstay on the Knights' 2008 West Coast League championship team, was summoned to the major leagues on Friday by the San Francisco Giants. Several hours later, he was on the mound at Nationals Park in Washington, D.C., facing leadoff hitter Denard Span and the heart of Washington's potent lineup in the 8th inning of an eventual 2-1 loss.
Nineteen pitches later, he was a major-league veteran, with a perfect ERA intact and his first career strikeout in the books. Working around two walks, Osich fanned Danny Espinosa and then retired the dangerous Bryce Harper and Clint Robinson to complete his first big-league inning unscathed.
"I'm kind of in shock," Osich told San Jose Mercury-News reporter Andrew Beggarly before Friday's game. "I thought maybe I had a shot, but I didn't think it'd happen this fast.
"I was getting hurt every year, and yeah, I was getting close to hanging 'em up. I was just happy to be healthy this year. This is where I've always wanted to be."
And here's another twist: When Osich was pitching, one-third of the Giants' lineup consisted of former Corvallis Knights. His batterymate was former Oregon State teammate Andrew Susac (2009); third base was manned by Matt Duffy (2010), his teammate at double-A Richmond for much of last season.
"He's electric," said Susac, who played with Osich at OSU in 2010 and 2011 but did not catch him very often because injuries to both players limited their playing time together.
"He's always thrown hard.
"You can expect to see 97, 98 mph with a really plus changeup. And he's got a cutter now, I've heard, that might be his best pitch."
The 26-year-old lefty from Boise became the sixth Corvallis Knight to reach the major leagues when he was recalled from Sacramento of the triple-A Pacific Coast League on Friday. It was his second promotion of the season; he started 2015 with Richmond and was summoned to Sacramento on June 26.
Osich joins Brent Morel (2007), Andrew Susac (2009), Matt Andriese (2009), Matt Duffy (2010) and Matt Boyd (2010) as former Corvallis Knights who've reached the highest level of professional baseball. Morel made his MLB debut with the Chicago White Sox in 2010; Susac and Duffy broke in with San Francisco in 2014; Andriese debuted with Tampa Bay earlier this season and Boyd made his first big-league appearance on June 28.
Josh was first-team all-West Coast League for the Knights in 2008 following his freshman year at OSU. He went 5-0 with a 1.96 ERA, had 52 strikeouts in 46 innings, and was the winning pitcher when the Knights knocked off Wenatchee 4-1 on Aug. 18 to capture the first of their three WCL pennants.
He was ranked as the WCL's No. 2 pro prospect by Perfect Game and by Baseball America, behind future NFL quarterback Jake Locker, who played for Bellingham before quitting baseball to concentrate on football.
Osich also worked on the Knights' grounds crews the next two summers while rehabbing various injuries.
Friday's game culminated a long, arduous journey for Osich. He's battled back from several arm operations; missed one entire year of college ball after Tommy John elbow reconstructive surgery; spent all or parts of three seasons at single-A San Jose, and parts of three seasons at Richmond before everything came together for him in 2015.
"I've had just about every injury you could possibly have," he told the Richmond Times-Dispatch newspaper earlier this summer.
Through it all he never lost sight of his dream, or backed off in his work ethic.
"We knew he had the stuff," Richmond pitching coach Steve Kline - himself a veteran MLB left-handed reliever - told the Times-Dispatch. "He has the mindset and the talent.
"Now it's just the health part, which has been a question mark. He's always worked out to keep himself in shape.
"He's a 100 percent gamer.
"He wants to go out there and put in his part and contribute to this team. Everything he's got is right there. Now it's just polishing it up and getting ready to go to the next couple of levels."
Osich accomplished that mission on Friday by becoming the 13th former Aloha/Corvallis Knights alum to appear in the big leagues.
Seven members of that exclusive, but growing fraternity played for the Aloha Knights: Baltimore starting pitcher Bud Norris (2005); Pittsburgh catcher Chris Stewart (2001); Cleveland reliever Marc Rzepczynski (2006); San Jose (A California, Giants) pitcher Tommy Hanson (2005); Buffalo (AAA International, Blue Jays) first baseman Matt Hague (2005); Los Angeles Angels Director, Player Development Bobby Scales (1997); and New York Yankees Area Scout Mike Thurman (1993).
Hanson played for Atlanta and the Los Angeles Angels. Hague played for the Pirates; Scales for the Chicago Cubs and New York Mets, and Thurman for the Montreal Expos and New York Yankees.