Aloha Jaimie Van Vleet.
November 7, 2013
Ex-Knight Star Front Office Staffer Continues to Shine at Aloha Productions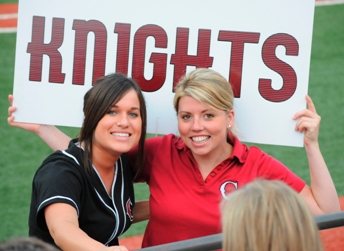 One of the veteran standouts of the Corvallis Knights has decided to take her talents elsewhere.
Seven-year Knights' staffer Jaimie Van Vleet (pictured left of current Knights' GM Bre Kerkvliet in a photo from 2008) left the team earlier this fall for a new position as the Director of Customer Service and Event Management for Aloha Productions, a Philomath-based company in the growing competitive cheerleading industry.
Van Vleet will organize international cheerleading events across the country. She was in Sacramento last weekend; her next stop is Richmond, Virginia. She'll visit more than 20 different cities around the country in the coming months to oversee various competitions.
"I'm fortunate for the chance to have a positive impact on the athletes through our events. I enjoy being challenged by the fast paced environment, the camaraderie amongst my co-workers, and the opportunity to travel."
A Corvallis native and 2010 Oregon State graduate with a business administration degree, Van Vleet had numerous responsibilities in her Knights' career. She joined the team in 2008 as an intern, and subsequently became the team's ticket director; host family coordinator; clubhouse meal coordinator, and the executive assistant to team president Dan Segel.
"Jaimie was an invaluable member of our front office and a real asset to the Knights," Segel said. "She would take on any assignment, always had a great attitude, was a host-family favorite and very dedicated to doing whatever it took to make the Knights better. She will be dearly missed."
Van Vleet said her years with the Knights prepared her to excel in a teamwork-based environment. She loved being at Goss Stadium. Her co-workers, the team's host families and the club's fans truly became her second family.
"I learned through trial and error, always being reminded by Dan that you can't succeed without failure and that if you aren't failing, you aren't trying or getting better," she said. "Dan stressed the saying, 'get comfortable with being uncomfortable,' and it will resonate with me in whatever I do in life.
"Not always being in my comfort zone directly affected my personal growth and professional development. I wouldn't be where I am today if it weren't for the opportunities I was given and the experience I gained working with the Knights."
She has many favorite memories, beyond the three West Coast League championships and seven division titles the Knights captured during her tenure.
* "Having a mentor and boss like Dan who brought enthusiasm to work every day, and who led by example."
* "A unique chance to work with [general manager] Bre Kerkvliet. She became like a sister to me, and an influential businesswoman who I admired and developed under."
* "Loving my job and looking forward to work every day."
* "KFC," also known as super-booster David Corner, AKA "Knights Fan Crazed," a frequent visitor to the team's world-wide headquarters in downtown Corvallis.
* "Providing positive and enjoyable experiences for our fans."
"We wish Jaimie the very best," Segel said. "We know she will succeed famously in her new venture."