Five Knights Selected to Play in 2014 WCL All-Star Game.
July 15, 2014
WCL HR and RBI Leader Kevin Kline Earns Spot on South Squad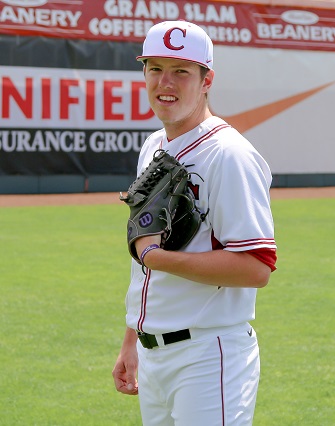 Slugging first baseman Kevin Kline, a rising senior at Dixie State, leads the list of five Corvallis Knights who were selected to represent the Southern most member teams on Monday, July 21st at the 2014 West Coast League All-Star Game.
The annual midsummer classic, spectacularly revived by the Knights at Goss Stadium in 2011 after a two-year hiatus, is set for 6:35 p.m. on Monday (July 21) at Kiger Stadium in Klamath Falls.
The other honored Knights are second baseman Marc Gallegos, a rising senior at Corban University; right-handed starting pitcher senior-to-be Chris Haddeland, the DIII Pitcher of the Year at Linfield; right-handed starting pitcher Jackson Lockwood (pictured), a rising junior at Portland, and reliever Brandon Choate, a rising senior at Washington.
Choate is a repeat selection from 2013. The teams were selected in a vote of the coaches.
The South team (Kitsap, Cowlitz, Corvallis, Bend, Medford, Klamath Falls) will be coached by host Gems' manager Mitch Karraker. The North squad (Kelowna, Victoria, Bellingham, Walla Walla, Wenatchee, Yakima) will be managed by Ed Knaggs, the skipper of the Wenatchee AppleSox.
The five All-Stars are all having outstanding seasons for the Knights, who have won four straight series and 10 of their last 12 games to assume first place in the South Division at 21-12.
* Kline leads the WCL in RBIs (33); is tied for the lead in homers (6), and is fifth in the league and tops on the Knights in average (.351). He has 10 doubles, a triple, and 17 total extra-base hits.
* Gallegos is hitting .271 with a homer, 20 RBIs and eight stolen bases, second-best on the Knights.
* Lockwood (6-1) leads the WCL in wins, is fourth in ERA (2.13) and has 31 strikeouts in 33.2 innings. He has won his last four starts and has allowed just two runs in his last 24.2 innings.
* Haddeland is 2-2, 2.67, with 26 strikeouts in a team-leading 40.1 innings. He has five consecutive quality starts and has pitched in at least 6.1 innings in each game.
* Choate is 2-0, 1.10, with a team-leading five saves. He has not allowed a run in 8.1 innings over his last six appearances.
Also, outfielder Joe Duffin of Cypress College, a junior-to-be at Connecticut, will represent the Knights in the Home Run Derby, which starts at 5:10 p.m. Duffin is third in the WCL with five homers and was also the Knights' derby rep last summer at Royal Athletic Park in Victoria.
Former Knight Gabe Clark (2013) of the Victoria HarbourCats was named to the North Division team. A rising junior at Oregon State, Clark is hitting .324, with three homers and 14 RBIs.
The most represented college on this year's ASG roster is Gonzaga, with three players. Arizona State, Creighton, Lewis-Clark State College, Linfield College, Oregon and Portland have two apiece.
Complete rosters can be found by clicking here.
For info on all All-Star Game events, please click here.